Checkpoints Spring 2005




Class Scribe


Bob Kay
40411 Tesoro Lane
Palmdale, CA 93551
Home: (661) 274-2201
Work: (661) 824-6426
Email: Robert.kay@baesystems.com

Greetings 78ers…

I hope all is well with you and your families. My humble apologies for not having an article in the Winter issue due to my laptop being stolen. I learned a great deal during that experience…the most important one is to back up everything, and often. I would highly recommend that if you don't already do that to your computer(s). I am in the hopes that it won't happen again and I appreciate you patience and understanding.

Two bittersweet items right off the bat. As most of you probably know by now, Ron Rosepink's remains were found in March very close to where he had been paragliding. Two hikers found some of his remains in a heavily wooded area and search/rescue teams were called in to find the rest to include his equipment. Deb and the kids immediately flew out and are thankful to put closure and lay Ron to rest. My personal thanks for your support during this most difficult time for the family. If I hear any more info, I will post in future articles.

Also, received some sad news from Dave Wininger concerning the death of Kevin Rank. Kevin passed away in his sleep at his home in McRae, Arkansas on 19 April 2005. He had been suffering from Parkinson's Disease for some time-was medically retired from Lockheed in 2002 due to the illness. A memorial was held on the 23rd of April at 1st Baptist Church in Beebe, Arkansas and a "Karaoke and Prayer Bash" (Kevin loved Christian Rock music) that evening in the local college student center. His body was given to science and when it is given back it will be cremated. There will be a burial/memorial service at the National cemetery in Denver. Kevin is survived by his spouse, April Weichbrodt Rank, and his two nephews Nicholas and Joseph Weichbrodt, ages 6 and 7, of the home. He is also survived by his sister Kathy Rank and stepmother Fritz Webber, both of Denver. Dave said that in addition to himself, Jan Schauble was at the memorial service. April is doing well under the circumstances surrounded by the presence and prayers of friends and family.

Dave went on to say that he retired from active duty a few years back and took up residence at Langley to work on the E-10A (767 that I believe, will eventually replace the E-3A AWACS). After four years at Langley, he and Ruth will be moving to Omaha later this month to be nearer his grandchild. He works two desks down from Jeff Stough and Ray Hatchell is also in the office. Greg Miller also works the program in SAF/AQI at the Pentagon. Thanks again for the info Dave.

Some of this quarter's article may be dated as I try and catch up from the last one. Back in February, I received a nice note from fellow UPT classmate and past scribe Sig Nelson who still flies for American. He recently left his Guard job and signed up in the "non-affiliated" reserves while job hunting for something to finish up his military time with. In his "free" time (he had just returned from a trip and was getting ready to go on another one…hey, thought you airline guys had lots of time off!) he runs around after 11/2 year old Conrad. He also mentioned that he saw Joe Mattuski (another 80-02 UPT classmate…has it been that long?) while in Phoenix. Joe is a Captain for Southwest living in Monument. Let us hear from you Joe! Thanks for the great info Sig…always a pleasure hearing from you.

Speaking of past scribes, the one and only Greg "Kais" Kaiser wrote back in March where he had recently returned from Kip "Bonemass" Warton's retirement at Ft Leavenworth in April. Kip held the ceremony at the Memorial Chapel on the post, another very reverent place just like the cadet chapel, only on a smaller scale. His dad, Lt Col (ret) Gerald B. Warton, was the officiating officer in a very nice ceremony. Kais met Kip's new bride, Julia, who he said is a very classy lady along with the rest of the Warton family and some of Julia's, as well. Rick "RD" Davidage and his wife, Nancy, drove over from western Illinois for the ceremony, to round out the '78 presence. Kais noted that there was a strong Air Force presence at Kip's retirement; that and a significant group of Army folks as well as the many people that Kip touched during his tour there. Congrats Kip…the AF and the Army will miss you guys.

Concerning RD, he spends his time farming, hunting, and fishing and was hardly recognizable with longer hair than when he left for the Academy as a teen (Kais hastened to add that he was also sporting a significant beard). RD's wife Nancy looked great and teaches aerobics at the YMCA in Macomb, IL. You are still the man Kais…thanks.

For those of you who have a tough time watching Donald Trump and his minions on The Apprentice, Mark Werthman wrote about seeing a certain Rick Searfoss putting the gang through the paces in the "pukemaster" weightless astronaut trainer. I chatted with Rick about it just before the airing of the show and while he wasn't at liberty to discuss details until after the airing, he said it was a most interesting experience. Rick is keeping very busy with his motivational speaking, consulting business and keeping up with three very active daughters. Mark, also said that Goldy Goldfein (we were mere hours of meeting up at Holloman last month while I was on an aircraft delivery and he was doing a command visit) is his boss' boss and Mark's Additional Rater on his OPRs (Officer Performance Report that replaced the Officer Effectiveness Report for those of you who have been out for a while). Mark continues to do our class proud on active duty as the Operations division chief in the Air Warfare Battlelab at Mountain Home.

Yet another former scribe, T.J. Whitehair, wrote (I think you guys are keeping an eye on me) after reading last Fall's article. He and Don Alston, did Titans together a long, long time ago in a galaxy far, far away while he and Matt Lacourse (whom I still see a couple of times a month at Tyndall) were Smacks together. T.J. is still cancer free (YESSSS!), over 50 and thinking about finishing up his pilot's license after a 35 year hiatus (no sweat T.J…it'll come right back to you).

Steve Sargeant kindly took the time to send a great picture of several general officers (who happen to be our classmates) in Baghdad, Iraq this past April at the Crossed Swords. Bob "Steely" Steel was on his last day of a 1 year assignment before turning over the reigns as the ACCE to Multi-national Force-Iraq to Dave Eidsaune. Steely is en route to command the wing at RAF Lakenheath. Speaking of Don Alston, he is currently the DCS for Strategic Communications; Neal Barlow was just 3 days away from completing a 9 month tour as the Director of the Joint Area Support Group – he will return to USAFA as the head of the Aero department. Steve is in his 16th month as the DCS for Strategy, Plans and Assessment – will have been just shy of 18 months when he departs (will have already left by the time y'all read this) on 30 May … en route to USFK in Seoul, Korea. Steve made it very clear that our class is having a big impact on the war in Iraq but all were understandably looking forward to seeing more of classmates in the not too distant future when the finished their tours. Thanks for your service gents in less than pleasant circumstances.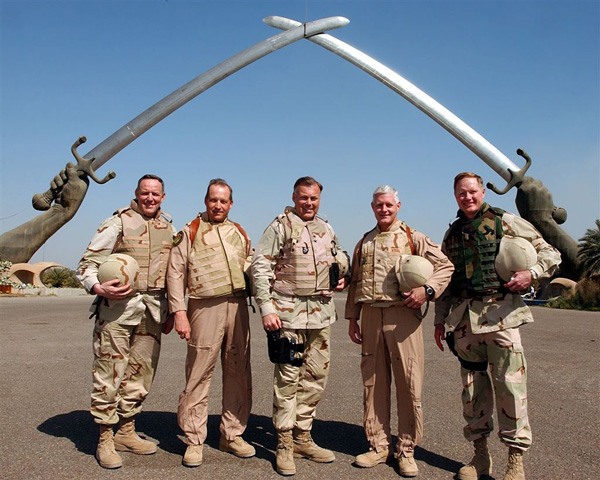 We're all smiling although Neal and Steely are going home!



Finally, a few moves: Mike "Snod" Snodgrass is due to give up the reins of the 3rd Wing at Elmendorf to non other than Herb "Hawk" Carlisle. Not sure when the change of command will be or was. Joe Reynes will get his second wing at Osan after sweating it out as the CENTCOM exec for the past 18 months. Dave "Limo" Scott became our 35th flag officer (I still believe that is a class record by a big margin) on the latest BG list and moves on as the Vice DO at NORAD. Good on you Limo! Dick Newton moved working J-3 on the Joint Staff to being the J-5 on the STRATCOMM staff. What a concept…'78 remains in charge!

I am now officially out of room and appreciate the info you guys continue to provide. Hope everyone has a blessed summer.

78 is GREAT!
---
---