Checkpoints Summer 2005




Class Scribe


Bob Kay
40411 Tesoro Lane
Palmdale, CA 93551
Home: (661) 274-2201
Work: (661) 824-6426
Email: Robert.kay@baesystems.com

Greetings 78ers…

Well gents, it has been another banner quarter of info from you guys. I very much appreciate all of you who took the time to call, write, e-mail etc…may be another article where I'm space limited. What a great situation to be in!

Am winging my way on a Delta 767-400 from Atlanta to LA as I write this. Just delivered another fine Rhino to its eventual demise in either Florida or New Mexico in the drone program. Reason I bring this up was a great call I received from Deon "Tank" Gieg last month. Hadn't seen Deon for more years that either of us cared to recall (think the last time was over some wings at the 25 Club across the street from Nellis air patch)…was great to chat with him again. He's living outside of New Orleans flying for Delta (finally got to the connection) and has been for 17 years. He does the Atlanta to Hawaii bit a few times a month (sounds like rough duty to me) after retiring as the Coon Ass Militia squadron commander four years ago. His oldest daughter is a senior at LSU with his youngest daughter a freshman at the same place (she made the freshman competitive dance team which is tough to do apparently). He and (NAME OF WIFE) are adjusting very well to the empty nest syndrome.

Staying with the topic, Deon reports that fellow Delta pilots at various locations include: Greg "Claw" Clasen, Craig "Sumo" Adler, Tim Collins, Doug Lawton, Dan Mesnard. All are hoping that the company hangs in there…as do we Tank. Thanks so much for the call!

Got a great letter from fellow BCT Cobra Squadron alumnus Wayne Crenwelge (shakin' up those 31 year old cobwebs we are). Wayne wrote saying how moved he was at the news of Kevin Rank's passing in last quarter's article. He and Kevin were stationed at Dyess together as LTs during their first flying assignments. Wayne sent a nice picture of he and his two brothers (both grads as well) during their folks' 50th wedding anniversary. Bret (far left) '87 and is a Lt Col C-130 Ops Officer at Dyess, Kevin (next to Bret) '82 retired last summer from the AF and is also at Dyess as a C-130 sim instructor (all three brothers flew the Herc…interesting). Wayne's dad is an Aggie who spent 22 years in the AF…sure gave his sons a special heritage. Wayne went through the Troops to Teacher program and currently teaches elementary level Special Education in the Houston area. Says it is every bit as satisfying as his AF career and highly recommends it to anyone looking for a change. Tanks Wayne…great to hear from you after all of these years.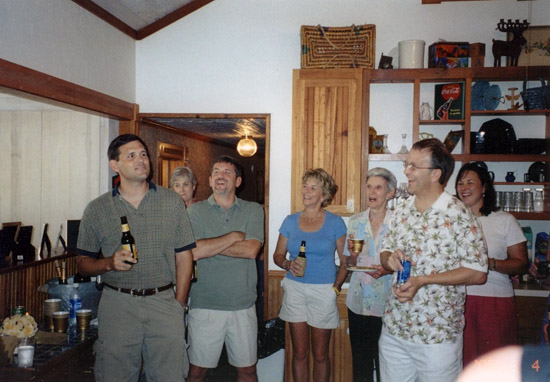 Speaking of progeny at the zoo, Tank also mentioned that Wayne Kellenbence is still the Director of Staff there and all three of his sons are either grads or cadets…talk about a legacy.

Larry Krause wrote and is the Emergency Management Specialist for the Joint Forces Headquarters, National Capitol Region, Ft McNair. He loves the job as he is at the forefront for emergency management on a national scale. He was required to resign his Lt Col reserve commission to take the job…hated to do it. He mentioned that Taco Gilbert is doing QDR work at the Pentagon. Lyle Koenig apparently retired and is the Emergency Manager of Walt Disney World, Orlando. Dan Philips is working for a contractor in Colorado and doing very well. Also, Vic Carpenter is back to dealing stocks in the Phoenix area and Bart Wohl is working in the Lab in Albuquerque. Great work Larry…thanks.

Scott Smith also wrote for the first time since graduation. After retiring at Eglin, he returned as a flight test engineer contractor (same thing he did active duty). He originally moved to Ft Walton Beach, Florida, to take care of his wife's elderly parents (and to soak up the sun)…they've been there ever since. His daughter graduated from college in May and he has another one in nursing school. Thanks Scott, please don't wait so long next time!

Steve Goldfein watched son Alex graduate from the Zoo with 2005 near the top of his class. Got married soon thereafter and he and his bride are now at Moody waiting for UPT to start. Brother Travis is burning up the program as a junior at West Virginia University. Goldy received a visit from Kip and Julia Warton for the weekend a couple of months ago…great time had by all. He and Ed Rice had the privilege of being sitting members of the CORONA heraldic dinner last month (July)—Goldy as the AWFC/CC and Ed as the 13 AF/CC. They were two of about 40 GOs who command at the Numbered Air Force level or equivalent. Apparently it was quite an experience to listen to every four-star in the air force while sitting with their own flag and heraldic device. Thanks for the great update as always Goldy.

Mike Spain was minding is own business as a Delta captain (737-800 out of Salt Lake) when this very sharp guy shows up as his co-pilot. As they start chatting, the guy introduces himself and it comes out in the conversation that he is a "75 grad. It finally hits Mike that Kenneth R Nease was the 4th group commander during our Smack year…talk about a small world. Who would have thought that 30 years later two grads paths cross again in a very different time, with a very different command structure? Mike mentioned that he sees Gary Batinich and Doug Lawton around Salt Lake airport on occasion (both 767 captains). Gary is also the commander of the Hill F-16 wing and has moved down to Salt Lake to use the runway as Hill repairs theirs. Mike also ran into Terry Kelly (737-800 captain) and Mark Apfel (MD-88/90 Captain) who is commuting to SLC from Dallas now that Delta has closed that pilot base. Tom Kana (MD-88/90 First Officer) is commuting from Colorado and does some investment/insurance work on the side. Great story Mike…thanks!

Finally, Tim Doty wrote from Afghanistan. He is still on active duty at McGuire as a KC-10 IP and has been at Kabul, Afghanistan for the past ten months with the Office of Security Cooperation – Afghanistan (OSC-A), as the Chief of the Air Division. He is essentially helping the new Afghan National Army (ANA) build their Air Corps [Air Force] for Afghanistan from the remnants of the former Afghan Islamic Air Force and the "Northern Alliance"…basically building it "from scratch!" They have Russian built helicopters and fixed wing aircraft all of which Tim will have flown before he leaves. His group recently took responsibility for all aviation supporting Afghan government missions, including a large counter narcotics effort.

This is Tim's fourth deployment for ENDURING FREEDOM / IRAQI FREEDOM and the third extended one (deployed over 24 months since 9-11 with the last three Christmas seasons in the Middle East (Al Udeid AB, Qatar in 2002, Karshi-Khanabad Airbase, Uzbekistan in 2003, and Kabul in 2004). He and Cindy just celebrated their 27th anniversary…at least he got to be home for that. He retires next spring and has enjoyed just about every minute of it. Son Steven is in the Air Force and recently completed his first deployment in support of IRAQI FREEDOM and their other son Jordan is in the Army and is deploying to Iraq in September for a year. Pretty special family if you ask me. Tim sent a picture of him at Kandahar when it was only 130 degrees!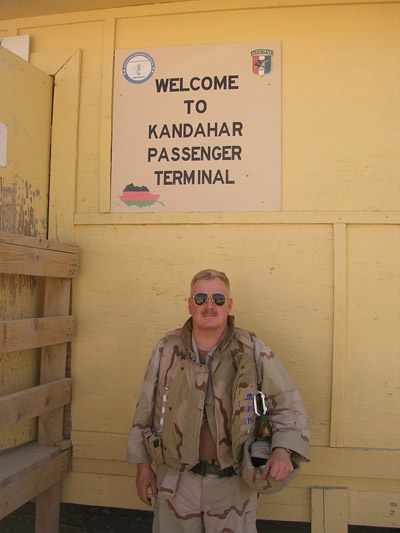 Well, ran out of room again—love it when that happens! Hope everyone has a great fall season. Many thanks to all who took the time to contribute.

78 is GREAT!


---
---