Checkpoints Summer 2006




Class Scribe


Bob Kay
40411 Tesoro Lane
Palmdale, CA 93551
Home: (661) 274-2201
Work: (661) 824-6426
Email: Robert.kay@baesystems.com

Greetings 78ers…

Staying true to my normal form, I'm sitting on an airliner (the carrier shall remain nameless) trying to get this done two days before the deadline. I'm doing my best to not be a slacker and get this turned in on time…but the temptation is strong! Lots of heroes this article—many thanks to you many faithful folks for contacting me with some great news. Please continue to send info, or else I'll have to get creative and you all know how disastrous that would be.

Hero (or I should say heroine) of the quarter is Tom Keohane's bride Amy who actually sent a hand written letter (bless you Amy!) and a great picture (I scoff Tom—you just don't look 50!) bringing us up to date on their beautiful family. 19 year old twins Jennie and Andrea attend Northwestern University and Miami of Ohio respectively and "baby" (Amy's description) Michelle is 15 and still at home in Burnsville MN (very pretty suburb of Minneapolis). Tom is a captain for Northwest on the A-320 as they continue to sweat out the ups and downs of the industry. Amy reports other 78 ers flying in the airlines are: Tom Czachor (captain also on Northwest) who had hip replacement surgery in December of last year; Gary Hughes (captain for American) who lives in New Mexico but is domiciled in Dallas; fellow Northwest-er Ben Troemel who flies out of Minneapolis but commutes from Cocoa Beach FL (heck of a schlep Ben) and UPT classmate (Reese 80-02 if you can believe that…yikes!) Chuck Brininstool who also flies for American out of Dallas. I can't thank you enough Amy.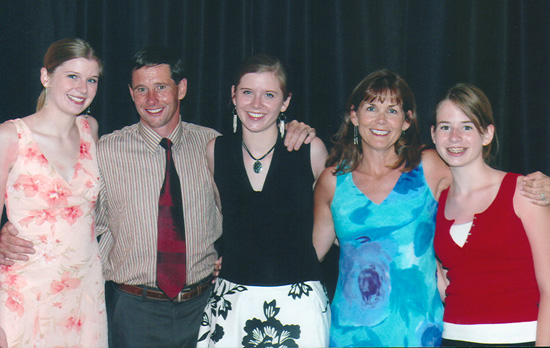 Got a very cool e-mail from world traveler Scott "Ferg" Ferguson. He and Mary spent a month on an a Russian icebreaker in the Antarctic Ross Sea with stops at McMurdo Station, Scott Base, the explorer huts and "more penguins than you can shake a camera memory stick at." They also established a new record for furthest south for a surface vessel in the Bay of Whales. To spice up the trip, they did lots of helicopter "flight-seeing" and even had a picnic lunch on the pack ice. He appropriately called it the "trip of a lifetime"…sounds like an understatement to me. As you can see by the attached photo, it's about as cold as the Terazzo in January on the pack ice near Cape Hallett with Mt. Hershey in the background. Ferg has been retired from Microsoft for over 8 years now and has an incredible web site at www.ForestMoon.com (click on "Galleries") with pix of their trips to London, Italy, China and Spain to name a few. Thanks Ferg, you truly live an amazing life my friend.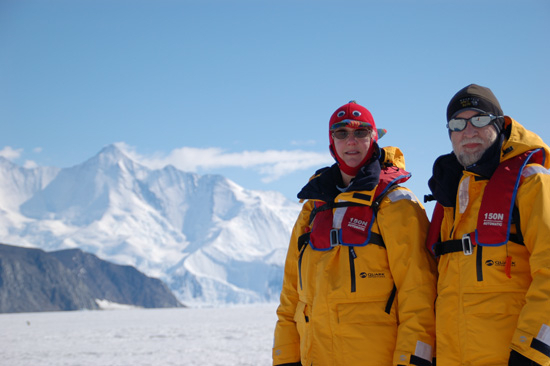 I had the pleasure of spending the evening with past scribe and all around good guy Greg "Kais" Kaiser last month on a run through Columbus air patch. Kais picked me up on base in his hot rod Chevy pickup (he said it was a mid life thing—just kidding) and then proceeded to his very cool house on the lake. The ever lovely Kim joined us as we pressed to one of the coolest restaurants in the south called Profitt's Porch (think I buffooned the spelling but you Columbus alums know of what I speak). Mass quantities of red beans and rice (best on the planet) were consumed as we caught up with life in general. Kais is an international MD-11 first officer for FedEx and is loving life as he literally travels the world. Kim has several urban renewal projects planned for their house that Kais will manage. The next morning after an exceptional breakfast at The Kitchen (another Columbus landmark) I took Kais out to Mr. Rhino bringing back some great memories of his Phantom days at Clark and Keflavek (think I mis-spelled that one too). A couple of his buddies joined us (fellow Zoomie Rich Briner among them) for the show and tell. I know it's painful looking at my ugly mug again but Kais is preserved well and the jet looks cool!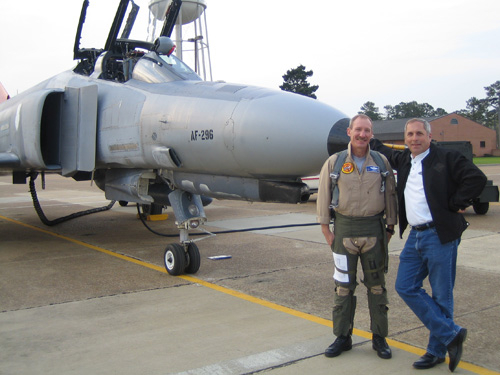 Rick Searfoss and I finally got together for lunch last month at Mojave Airport. Rick is keeping very busy teaching at the National Test Pilot School and flying rocket powered airplanes with Dick Rutan for a Mojave "mad scientist" company. He is on the road often as a motivational speaker. That plus Julie and his three girls keep him busy at home. It was great catching up on his endeavors.

Jim Jackson wrote and is extremely active as a reserve BG and temporary commander of the AF Doctrine Center at Maxwell. He is the Mobilization Assistant there but was put on extended active duty and G-series orders after Maj Gen Bentley Rayburn retired in April to run for congress in Colorado (good luck Bentley). Jim will serve in that position until the new replacement arrives in June. He also said that there are several reserve guys who work at the center and that it is truly "Total Force" in action. In his free time, he lives in FL and is a captain for Southwest. On an interesting side note, I've babbled for a couple of years that we have to have the most GOs of any USAFA class and Jim mentioned that Lt Gen Stephen Lorenz, former Comm and current Air University commander, says the same thing. Yep, 78 is great!

Finally, some senior officer notes, Tanker Snyder and Ed Rice are both on the PACAF staff, Tanker is XP and Ed is the Do. While Del Eulberg waits to put on his second star, he will be moving from Scott air patch back to the Beltway as THE AF Civil Engineer (congrats Del!). Kevin Kennedy is also waiting to pin on and will be moving FROM the Beltway to Langley as commander of the AF Command and Control, and Intelligence, Surveillance and Reconnaissance Center working for the SECAF. Bill Chambers finally got out of the personnel biz in the Pentagon and is now in lovely Kabul (not sure that's a even trade) as the deputy commander of the Combined Forces Command. Other guys on the two star list are: Doug Raaberg, who will be the new ACC XP, Keye Sabol who is CINC manpower on the airstaff, and Mark Zamzow who will be moving to Randolph as the new director of Intelligence and Air, Space and Information Operations at AETC. Congrats to you guys and I hope I didn't miss anyone, but probably did.

On that happy note, I'll will sign off for this installment (since I ran out of space—love it when that happens!) and thank all of you contributors once again. Consider this my semi annual call for any info that I can put in here. You have now had to look at my ugly mug for the last two articles and that's with info. Imagine what you'll have to endure if nobody sends anything! May you all have a healthy, blessed and enjoyable summer.

78 is GREAT!


---
---