Checkpoints Fall 2007




Class Scribe


Bob Kay
40411 Tesoro Lane
Palmdale, CA 93551
Home: (661) 274-2201
Work: (661) 824-6426
Email: Robert.kay@baesystems.com

Greetings 78ers…

I am sorry to report the passing of Ken Rachocki this past August. Memorial services were held in Tempe AZ several days after his death. Condolences can still be sent to his wife Debbie in care of the AOG. The are asking for donations to be sent to the Tempe Preparatory Academy, 1251 E Southern Ave, Tempe AZ 85282 to fund a new science lab. He will be missed by those of us who knew him.

On a bit happier note, Kip Warton is doing great things as our AOG Class Advisory Senate rep but still needs your inputs ( Warton.USAFA78@gmail.com). Also, Wayne Kellenbence (beesf16@hotmail.com) and his team already are working the preliminary items for next year's reunion. We probably won't be able to get a firm date until Feb or so when next year's football schedule is released. The more senior reunions ('63 and '68) have already snapped up the Navy game. I also chatted with Cliff Huff who is going to update our web site (http://homepage.mac.com/c2huff/usafa1978) to carry the latest news on these topics. Wayne also mentioned that he has walked through the Oasis Lounge which is now named "The Lt Col Mark McGeehan Memorial" and it's a great place. It's attached to the chaplain's area on the terrazzo level in the northwest corner of Sijan Hall and includes leather furniture, kitchen/bar type chairs and tables, coffee bar machine with an assortment of coffees, big screen TV, DVD, etc. The chaplains say that the cadets use it all the time. For those who don't know, this was created from a $37K donation from our class gift fund back in Jan of 2005. Look for an event at the lounge during the reunion.

Two very fit 50+ year olds Morgan Lankford and CS-03 roomie Jere Mattingly ran the AF marathon (their second together) this past October (Morgan's 11th and Jere's 12th). There was some bet about both of them showing up at the reunion if they ran together so they both plan on being there. Morgan flies for USAirways (22nd year!) living in Pittsburgh and Jere is the Deputy Director of the 718 test Squadron at Arnold AFB in Tennessee. Now that's supporting your classmate!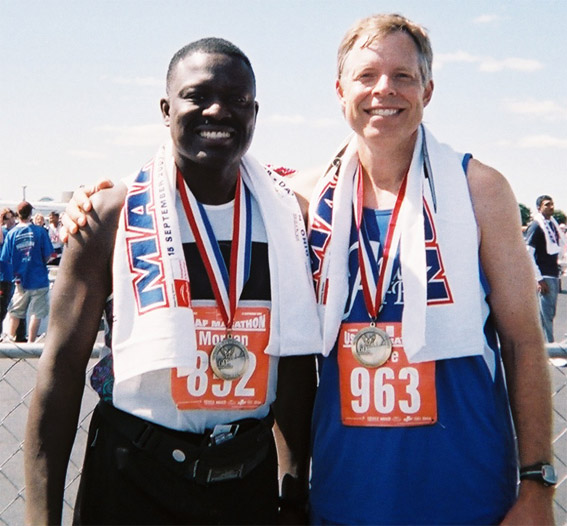 Last month (October) Mike McMillie had his annual '78 get together in DC. Attending were (back row—L to R): Steve Dalbey, OSD/Chief of Staff, Detainee Affairs; Tony Gazo, WBB Consulting (technical/engineering consulting and advising on mostly Navy programs) and ; Rob Hickey, Deputy CoS ODNI/CIO; Wayne Hermandorfer, Lockheed Martin, VP Legislative Affairs; John Puffenbarger (son and daughter are at USAFA), Northrop Grumman, SETA to National Security Space Office. Front row (L to R) ; Sig Nelson, American 737 Captain, LA; Bo Marlin, Deputy Director ISR Capabilities (A2C); Steve Knott, Mobility Analyst, OSD/Protection Forces Division; Larry Krauser, Emer Management Specialist-JFHQ/Capital Region (Larry wrote that he's taken up serious ballroom dancing); Mark Gibson, USAF Director of Current Operations and Training and Russ Frasz, A-A5x. Not sure what most of the codes mean but everyone sounds like they're doing well. Mike also mentioned that Blake Linder turned over the 501st Wing in June after 2 years and is spending his last 11 months at Ramstein working for Mike Snodgrass as the Deputy A5 (XP). Finally, Bill Troy and Paul McVinney work down the hall in the Assessment and Lessons Learned division as contractors. Speaking of Sig Nelson, he wrote that our own Mike Mangold also flies for American for profit but air races for serious fun (sure there is some profit in there as well!). In fact, he recently won the 2007 Red Bull Air Race World Championship in Perth Australia. For more info on Mike's incredible feat, go to: http://www.redbullairrace.com great reading!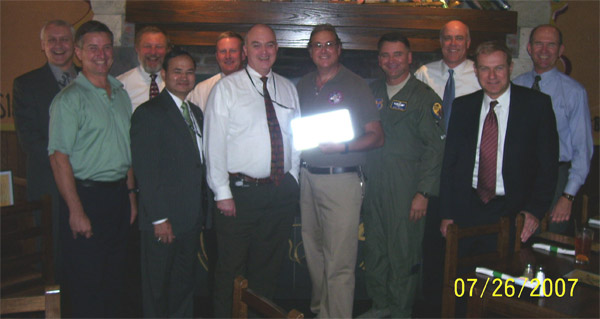 Mike also sent along a picture of him briefing SECAF Wynne while he (Mike, not the SECAF) was the Air Component Coordinator Element/Horn of Africa director and the 449th Air Expeditionary Group commander. Mike was showing the Secretary Camp Lemonier, Djibouti, back in March.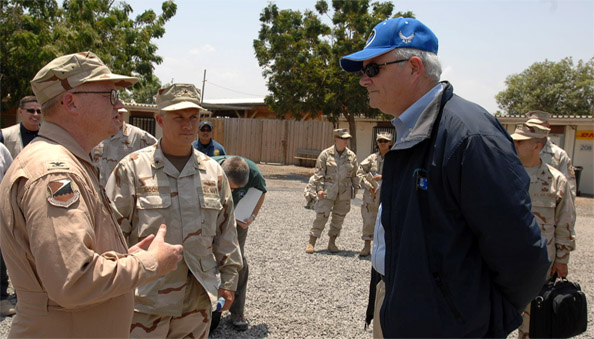 Final picture is great one of Steve and Jeanne Crittenden with daughter (and nurse) Sarah and their two foster babies. Steve flies Gulfstreams worldwide for an LA based air charter and truly loves it. Think I once mentioned that we live a mile or so from one another—it is a small world. We were able to get together for our bi-annual lunch at the local golf course to get caught up. They love being in the foster program and the differences it makes on the kids is worth it.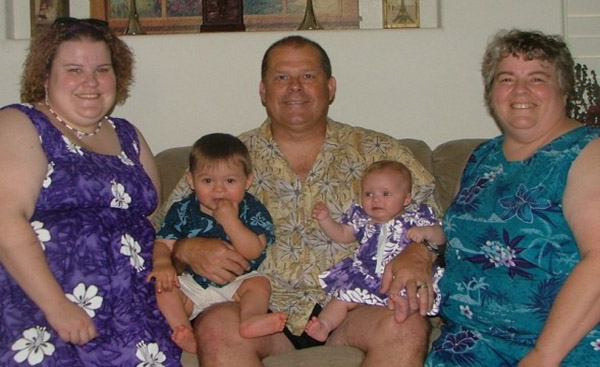 Kevin Kennedy has been the Air Component Coordination Element Director in Kabul since August of this year and will be there until next fall. He is essentially running the air war in Afghanistan—says that there is never a dull moment (bet that's an understatement). Thanks for your service over there Kevin. Mike Quinn has a great gig as a global finance strategy executive with Hewlett-Packard and living north of Houston. He suffers tremendously by having to work in flip-flops and shorts at home when not in Palo Alto or traveling out of the country (which he says is often). He and Nan (his bride of 25 years) have two kids, one in college and the other in high school. Life is good…

Speaking of proud parents, Bill and Bonnie Chambers have a great deal to be celebrate. I mentioned last article that Bill got picked up for his second star and is currently the USAF Director of Communications. Their eldest child, Anna is currently the Vice Consul at the US Embassy in Islamabad Pakistan. She was invited a few months back to speak on American religious freedom at the International Islamic University in Islamabad. Her presentation was well received and she represented the Chambers family and the United States very well. Also, their oldest son, Will, was married in August to Lydia with all the Chambers' siblings in the wedding.

Greg Hollister writes about a major decision he recently made. He left his job in September to allow more flexibility to support Senator Fred Thompson's campaign for President in Colorado. He is doing business development and marketing consulting to pay the bills while actively campaigning. He has also written a thoughtful book on contemporary political issues called "Under Oath" that I found to be excellent reading. He encourages anyone who is deciding who to support in next year's election to contact him at greg_hollister@msn.com and look at Fred Thompson's site at www.Fred08.com.

Dan Mesnard is the most senior '78 pilot at Delta and is an International 777 Captain out of Atlanta but lives near Melbourne FL. He owns a charter boat fishing biz called "Plane to Sea, LLC and gives 78ers a special discount.

Mark Werthman is thoroughly enjoying retirement—as in total retirement. His toughest challenges are deciding what to wear, what to do and how to stay out of his bride's way. Think the brand of beer to drink is also in there somewhere. Yep, something to look forward to I'm thinking.

Ran out of room again…many thanks as always for the great inputs. Hope everyone has (or had by the time this is published) a blessed holiday season. See you in the Winter article.

'78 is Great!


---
---