Checkpoints Summer 2007




Class Scribe


Bob Kay
40411 Tesoro Lane
Palmdale, CA 93551
Home: (661) 274-2201
Work: (661) 824-6426
Email: Robert.kay@baesystems.com

Greetings 78ers… Hope everyone's summer is going well. You guys have been extremely faithful yet again this quarter with great info so let's get to it.

First a message concerning the AOG (which you guys are members of or you wouldn't be reading this in the magazine). As you guys may or may not know, the AOG By-Laws, adopted in 2006, established a Class Advisory Senate. The AOG Board, at its May 2007 meeting, approved the operating procedures for the Senate which essentially acts as a communication link between the membership and the Board. If you want to get your opinion on any AOG or Academy issue to the Board, this is the way to do it. The Senate is now up and running with 31 classes represented with our rep being Kip Warton (Warton.USAFA78@gmail.com, snail mail: 1120 Carlson Dr, Colorado Springs, CO 80919) and he needs your inputs. They are preparing recommendations on the issues of an AOG Foundation, AOG restructuring, revision of the AOG By-Laws, the honor code, and the results of last years' member survey. Please drop Kip a line and let him know your perspective on these and other issues—remember, silence is consent.

We're here at Canoe U going through Parent's Weekend for our son Philip. He's a member of 2011 (not to make anyone feel old or anything) and I've pretty much gotten past his defection over to "Brand X." On his first day back in June, I was able to swear him in which is one of the proudest moments I've spent in uniform. Now I know how all of you guys who have sworn your kids in felt. To show what a small world it is, right before the personal swearing in, the class gathered for a mass swearing in (even had a couple of F-18s fly over—OK, what kind of jets flew over us on that fateful day 33 years ago?—A-7s as I recall) and I ran into Jim "JJ" Grupp whose daughter Jessica is also in the class. We marveled at how long it had been and tried to catch up a bit before the ceremony started. JJ is an American MD-80 Captain out of LaGuardia. He also recently retired from "the best job in the world…with the best flying and adventures in the AF" which was commanding the NYANG 139 ALS. The 139th flies ski-equipped C-130s to the ice and snow of Antarctica and Greenland—sounds like airline flying is a bit more benign there JJ! His bride Kathy (Kevin Kregel's sister by the way…Kevin is now flying for Southwest) is a physical therapist with her own children's practice. The other kids are Chris who is working and living at home, Beth who recently graduated from the Coast Guard Academy and is stationed in Hawaii on the Cutter Rush, Jason is at Norwich University in Vermont on a soccer scholarship and their youngest Timmy is a 10th grader—busy brood! We did our best to get together this weekend but Jessica was doing soccer two-a-days along with scrimmages which kept everyone busy. Maybe at Recognition next year. Below are the pix of us proud dads swearing in our "babies" back in June.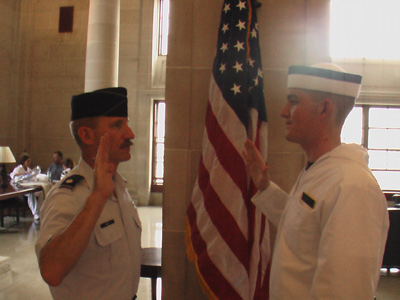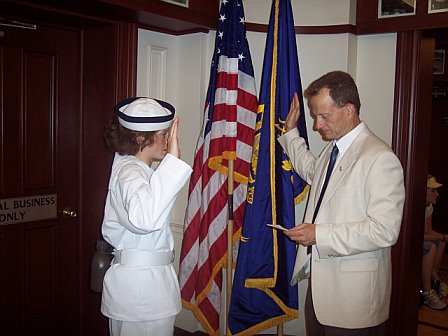 Also got a cool pic from none other than Greg "Kais" Kaiser who recently flew several FedEx MD-11 trips out of Memphis with Vince Bonasso. Kais said that the combined flying time between the two of them was fairly impressive. Kais is still living in lovely Columbus MS and commutes to Memphis for his airline gig. Glad Vince was there to provide some appropriate adult supervision!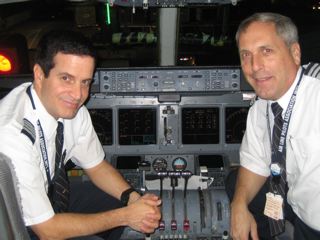 Got a very nice message from former D and B'ers Keye and Carol (Klasmeier, '80) Sabol. She sent a great pic of the family right after Keye pinned on his second star earlier this year (he is currently the A5R, Director of Operational Capability Requirements—old AF/XOR). We tried to hook up this weekend in DC but they were taking their youngest to VA Tech. Also this month, their middle child received her Physician's Assist white coat from Barry University.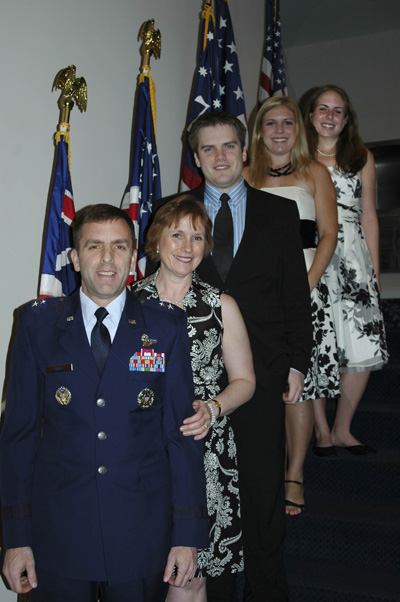 Speaking of two stars, after the last article, I was going to take off my cheer leader hat for a while but the new list was published in June and…well…I couldn't resist. Out of 23 names on the list, nine were from our class for just shy of 40%! Selects were: Hawk Carlisle (director of Legislative Liaison), Bill Chambers (SAF communications director), Dave Eidsaune (commander, Air Armament Center at Eglin). Marke Gibson (director, current operations and training also on the Air Staff), Larry James (deputy director, Signals Intelligence Systems Acquisition and Operations Directorate at the National Reconnaissance Office), Bob McMahon (AMC director of logistics). Kip Self (USAF Expeditionary Center commander at Fort Dix), Bob Steel (National War College commandant), Rob Worley (deputy director of programs also at the Air Staff). Congrats gents…that makes 22 guys with two buttons on their shoulders or selects. And I promise no more cheer leading…at least until the first three star announcement is made! Also, a couple of moves: Kevin Kennedy from commander, Air Force Global Cyberspace Integration Center, Office of the Chief of Warfighting Integration and Chief Information Officer at Langley to director of the Air Component Coordinating Element in Kabul and Roger Burg from director, strategic security, deputy chief of staff, air, space and information operations, plans and requirements at the Air Staff to the 20th Air Force commander at F.E. Warren.

Rick Searfoss was running a 5K race in Tehachapi CA late in June when he met up with my BCT roomie Darrell Herriges. Darrell is currently a contractor living in Huntsville and was in CA visiting his wife's parents for the 4th of Jul weekend. Yep…it's a mighty small world.

Finally, believe it or not, next year is our 30th reunion and we need to get rolling on the event. Two guys who live in the Springs, Wayne Kellenbence (was working at the AOG but is now the chief of staff for the Athletic Department) and Ken Prusak (United 767 captain who mentioned that he ran into Brian Kelly in Hawaii last month; Brian is a Delta 767-400 captain for Delta) have agreed to be the local reps on the committee. Wayne, bless him, has agreed be the chairman and John Hicks even offered to help again from Kansas City (John ran the VERY successful golf tournament at the 20th)! Much of the work will be done on line this year so you do NOT have to live in the Springs to work. If you are willing to help out, please e-mail Wayne directly at beesf16@hotmail.com. Stay tuned to this article as well as the website: http://usafa78-is-great.org/ for updates (Cliff Huff is working to get it up to date).

Well, just hit the word limit so that's it for this installment. Many thanks as always gents for the great info that you guys are willing to share with the class.

'78 is Great!


---
---