Checkpoints Winter 2007




Class Scribe


Bob Kay
40411 Tesoro Lane
Palmdale, CA 93551
Home: (661) 274-2201
Work: (661) 824-6426
Email: Robert.kay@baesystems.com

Greetings 78ers…

I think I must be getting senile, or just plain stupid. I'm trying to write this in the back of a 767 with my laptop up to my neck. The 300 lb guy in front of me just has to recline his seat as far back as it will go. Oh well, such is life on the road I suppose. Actually, if I'd stop procrastinating and get this article done early (now there's a concept!) instead of waiting till the last minute, I wouldn't have to do this. At least the in flight flick was pretty decent (A Good Year for all of you romantics…if you haven't seen it, I would recommend taking your bride or significant other).

The good news is that there is plenty of stuff to report this quarter thanks to some great contributions. Remember, I have to fill this space with something and the more you guys send, the less chance that I'll have to find something to fill it with!

Speaking of brides, two special spouses sent in some great info. Dan Schick's widow Georgine wrote and gave a great update on the kids. Their oldest Brittany graduated a couple of years ago (Jun '05) from UC Irvine with a degree in International Studies and Poli Sci and was commissioned in the AF (ROTC at UCLA). She then went to Dublin City U as a Mitchell Scholar (right up there with Rhodes, Truman and Fulbright Scholars—just a newer Scholarship program) and earned a Masters in International Security which she completed in September. It was then off for Intell Training at Goodfellow AFB. Somewhere in between she managed to get married to Nick (ROTC classmates) in Manitou Springs with Jim Schlichting (Dan's best man), Jeff Snoy, Jack Anthony, Ron Magnus' wife Sharon), and 76er Stu Patterson. They're now at Columbus air patch where Nick is attending UPT. With the wedding done, Georgine has a bit more time for their other five kids: Aaron, will graduate from Purdue with a degree in Finance this May and Adam from High School in June with his sights on UC Boulder. That will leave daughters Bethany (14) and Courtany (12) at home along with Christian, her 9 year old Down's son. He is also Autistic and was accepted and funded for a specialized program at a residential Christian Home/School an hour from their home. She considers herself most blessed with all the troops. Thanks so much for the great note Georgine—sounds like you're doing an incredible job…Dan would be proud.

Next special spouse is Ron Eifert's better half Cele who sent three great pix of classmates. First one is: (left - right) Mike Valdivia, Brian Scott and Ron Eifert enjoying a laugh after a recent dinner party at Ron's home in Peachtree City Georgia, 20 minutes southwest of Atlanta. Ron and Brian both live in Peachtree City while Mike lives in Orlando Florida. Ron is a Delta Air Lines Captain; Brian is a Northwest Airlines Captain and Mike works for United Space Alliance.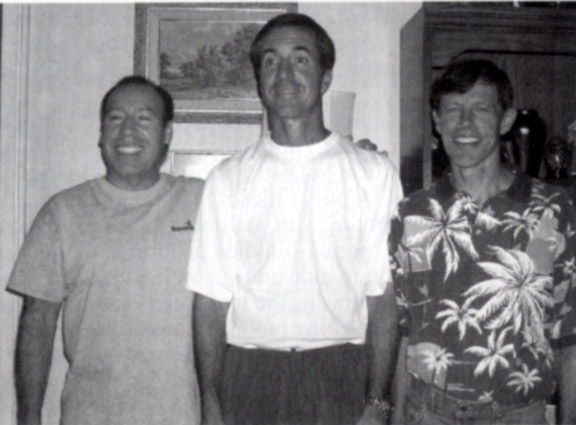 Second one is (left to right) Rick Searfoss and Don Harper when they had lunch with Cele. Rick was in Peachtree City speaking at the middle and high schools where Ron's sons are students. Retired from the USAF, Rick still lives in Tehachapi, California and is on the road often as a motivational speaker who uses his experiences as a Space Shuttle commander and test pilot to inform, educate and entertain audiences around the country. Think I mentioned in a past article that Rick is also flying rocket airplanes for a firm in Mojavewhere he trashes the pattern with that thing (just kidding). Don is a Delta Air Lines Captain who lives in Tyrone Georgia, just adjacent to Peachtree City.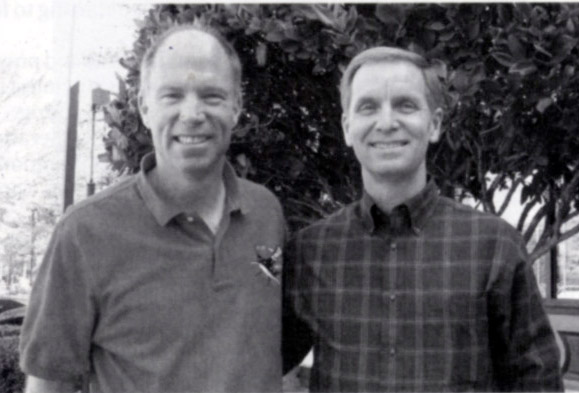 Last one is an Eifert family shot during a visit to the Zoo for the AF-Navy game. From left to right: Ron, Robert (7th grade), Cele and Carl (9th grade). This was the first time their boys had seen the academy since they were babies and Cele says they were impressed! They're hoping the boys were so impressed that maybe they'll have one or two more zoomies in the family. Great shots and info Cele…thanks so much for taking the time to send!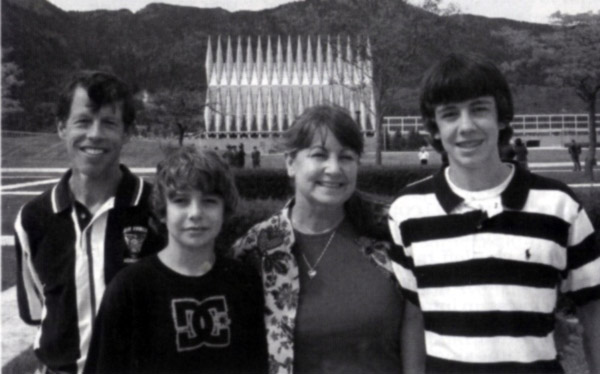 Bulldawger Gary Storie sent the recent issue of the family newsletter. He and Cathy are enjoying their new status as official "empty nesters" and did so with gusto the past year. With a travel schedule that would tire anyone out just reading it, they went literally from coast to coast with several spots in between (Vegas, Myrtle Beach, Yellowstone, Tetons. Poconos…whew!). The big trip was to Penn State to watch both kids graduate one day apart. Son Paul received a degree in finance and works for Bloomberg in NYC. Daughter Liz (married to Matt last year) graduated with a nursing degree and is a neurology nurse at Children's Hospital in Pittsburg. Gary is a VP and Wealth Advisor at a top-tier wealth management firm also in Pittsburg while Cathy still works at their local high school as well as managing her wedding planning business.

Adding to our general officer ranks, several guys in the Reserves made BG while serving as mobilization assistants (MA) around the globe:

Craig Gourley is the MA to the director of operational plans and joint matters at the Pentagon; when he's not flying for Delta, Bill "Sure Shot" Schauffert is the MA for the 19th AF commander at Randolph; Rich Shook is the MA to ACC/XP at Langley. Also at Langley is Lance Undhjem who is the MA to the commander of the AF Command and Control, and Intelligence, Surveillance and Reconnaissance Center who just happens to be Kevin Kennedy.

About the only other bit of assignment stuff I was able to find was a piece in the AF news showing Dave Eidsaune taking over the Air Armament Center at Eglin in January. Prior to commanding AAC, Dave was at Wright-Patt commanding the Air Force Security Assistance Center. The guy Dave replaced at Eglin was a two star so that bodes well for his future I'm guessing.

I'm thankfully running out of space again so have to sign off for now. Thanks again to all of you for taking the time to write and letting everyone know what's going on. I hope everyone has a blessed and safe winter.

78 is Great!


---
---