Checkpoints Fall 2004




Class Scribe


Bob Kay
40411 Tesoro Lane
Palmdale, CA 93551
Home: (661) 274-2201
Work: (661) 824-6426
Email: Robert.kay@baesystems.com

Greetings 78ers…

It is with great sadness that I offer my condolences and that of our class to Bob Guice's family. Bob passed in September in the Springs. I haven't heard exactly what happen but our thoughts and prayers are definitely with his sister Karen and their family. They have asked for any donations to be sent in Bob's memory to the Civitan International Research PO Box 130744 Fellows Program Birmingham AL 35213-0744.

Also, a request was sent on behalf of Ace Rawlins concerning Debbie Rosepink and her kids a couple of months ago. Ace has created several excellent ways of contributing to Debbie and the kids, one even tax deductible. I tried to contact most of the class via e-mail but am sure I missed people. If you were not contacted and would be interested in helping out, please shoot me an e-mail.

The headliner this quarter (gutsy assumption on my part!) was Steve Goldfein becoming CINC Nellis AFB (boggles my mind just thinking about that) and commander of the Air Warfare Center. Goldy received the command from the COMACC, General Hornburg, on 4 Oct and sent this great picture of the ceremony. Even went to work that day…sure can understand that—just a few things to catch up on. Congrats Goldy…what an accomplishment.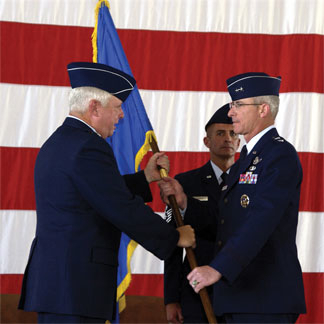 Ed Rice has also been selected to pick up 13th Air Force at Anderson AFB in Guam. Saw a story (best I can do as a retired type—good info is tough to get) that Anderson is building up again and am sure Ed will be right in the middle of that. Haven't seen Ed since he was the wing commander at Ellsworth a few years back…way to go Ed!

George Ka'iliwai dropped me a superb e-mail and gets the "Hero of the Article" award. He was selected as the Technical Director for the AF Flight Test Center at Edwards after his last active duty stint as the Test Pilot School Commandant. We keep trying to get together for lunch but have been highly unsuccessful so far. Anyway, he sent a great picture of Doug and Kathleen Benjamin as Doug was inducted as an "Eagle" at the Flight Test Historical Foundation Gathering of Eagles 2004 in Lancaster CA. The theme was "Out of the Black...Into the Blue." Doug was the second of only three pilots to fly the Boeing Bird of Prey. He flew 21 of 38 flights to include envelope expansion, mission utility and tactical applications…quite the flying achievement. Further, from what I'm told, to be inducted as an Eagle in the test pilot community is a huge honor. Yet another exceptional '78 achievement.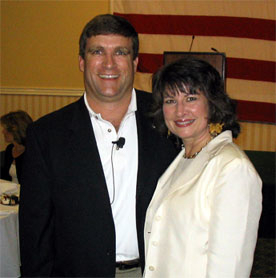 Doug and Kathleen Benjamin



As if that wasn't enough, George also sent this great shot of him and the usual list of suspects when they went through the 2004 Senior Leadership Orientation Course at the Fairmont Hotel in Washington DC and the Airlie Center in Warrenton, Virginia. The picture was taken on the steps of the Airlie House. From left to right are: Hawk Carlisle (Deputy Director for Legislative Liasion), Jim Rubeor , Don Alston, Joe Reheiser, Punch Moulton, George (as a member of the AF Senior Executive Service), and Joe Mudd. Thanks George for the info…I owe you one! Guess lunch is my treat when we finally meet up.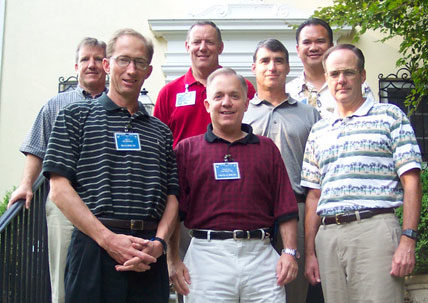 Also got a great note from a fellow Third LT refugee (al lovely Mountain Home AFB), Mark Rodriguez. Mark is a Colonel in the reserves and commander of the 932d Maintenance Group at Scott AFB doing maintenance on DV airplanes. They are about to receive the C-9Cs out of the 89th at Andrews as well as three to six new 737-700s directly off the Boeing assembly line. The wing changed it's charter from aeromedical missions to DV support (everything up to but not including White House missions). Talk about high threat! Mark and his bride Jill are the proud parents of two bundles of energy, 3 year old Caleb and James who is 1. Everyone probably gets to pack up and move to Hill before the end of the year but he's not sure at this point. Great hearing from you Mark…hope the move goes well.

Just saw Matt "Curse" LaCourse down the hall here at Tyndall AFB where I'm currently TDY (in the corporate world they call it "on travel"…still away from home). Curse has been flying the E-9 (AF DeHaviland Dash 8) for Lockheed Martin for the better part of a year. He retired a few years ago and did contractor work at Eglin AFB until this flying job opened up. Every time I see him he has a huge smile on his face…a most happy camper. Interestingly enough, the squadron he flies out of is the one he commanded (82nd Aerial Targets Squadron) prior to retirement and hopes to get back in the mighty Rhino (QF-4) one of these days.

Got a nice response on Ron from Dick Newton. He pinned his star on a few months back and is slugging it out in the J3 sweat shop on the Joint Staff. Says he most likely will be stuck in he Beltway for at least another year. Also heard from Ron Magnus who still resides in Denver. He is currently the managing director for FMI Consulting (he maintains that leading consultants is like herding cats) and as been doing a full load of traveling as of late. Went to China on business, spent three weeks in Europe for his and Sharon's 25th anniversary and then watched her and kids go to Africa for two weeks on a missions trip. As if that isn't enough, Ron was recently nominated and selected as a Wharton Fellow. The group meets a few times a year in different parts of the world to look inside large multinational organizations and study/give feedback to the hosts on strategy etc. Over half are from overseas on any given event (he thinks they cap this at around 40). This past year they me in Los Angeles, Wash DC, Milan, Singapore and Beijing. I would sure like to have Ron's frequent flyer miles…would do wonders for my anemic Delta account. Thanks for the great news Ron!

Speaking of Warton (what a segue), Kip recently tied the not with Julia in St Louis. Congrats! He is finishing up his AF life working for Goldy (kinda…Kip says he's pretty far down the food chain) at the Air Warfare Center detachment at Ft Leavenworth. He's looking at doing the airline thing (hopefully) after he hangs it up next year.

Well guys, this concludes another banner quarter of info from y'all. I'm running out of space with all the great pix (what a problem to have) so probably need to sign off. I sure do appreciate you keeping in touch…great to see so many of our class doing well. It is truly an honor to be associated with this group of great Americans. Hope the blessings continue to abound for all of you.

78 IS GREAT!


---
---