Checkpoints Spring 2008




Class Scribe


Bob Kay
40411 Tesoro Lane
Palmdale, CA 93551
Home: (661) 274-2201
Work: (661) 824-6426
Email: Robert.kay@baesystems.com

Greetings 78ers…

The good news is that we now have 30th reunion dates and those would be the 17th (Wed night) to the 21st (Sunday morning) of September. The game Saturday will be against UNLV and is also homecoming weekend. Please refer to the AOG website (www.usafa.org), select "Class Reunions" on the top then "1978 Information" on the upper left of the reunion page. There is currently a tentative schedule, hotel info (we'll be at the Embassy Suites off of I-25 on Woodmen Road) and other items to look at. Make your plans now—should be a great time. Wayne Kellenbence and his gang are working diligently to make it one worth remembering.

First out of the chute, I saw an article on the AF web site showing Steve Sargeant talking to cadets at the Zoo back in March. He was there to sign a memorandum of agreement with the Dean establishing a formal USAFA/AFOTEC (AF Operational Test and Evaluation Center) mentoring program that will enable AFOTEC members to mentor Academy cadets enrolled in or considering engineering, scientific and mathematics disciplines. I remember as cadets how we would lament not having much contact with members of the "Real Air Force" so this seems like an excellent way to bridge that gap. Steve is currently the AFOTEC commander at Kirtland.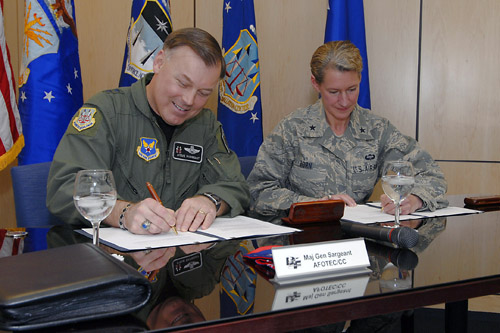 Just after I turned in the Winter article, Amy Keohane sent a nice note to bring us up to date. Unfortunately, Tom (Northwest Captain) was grounded from last Nov-Mar due to right bicep surgery needed fix the injury he sustained playing in a non-checking over 45 year old hockey league. He couldn't even drive for 10 weeks—am betting Amy was very happy when he was back in action! She also said that sadly, Tom Czachor was medically retired from Northwest after hip replacement surgery almost two years ago that didn't quite heal properly. On the family front, daughter Jennifer graduates from Northwestern in June and has been accepted to four grad schools. Middle daughter Andrea graduates from Miami of Ohio in and goes to medical school after she takes the MCATs. Their youngest Michelle is still a junior in high school and hasn't determined where she wants to go to college yet.

Also heard from UPT brother Buck Lansford's bride Teresa. Daughter Meghan graduates (or will have graduated by the time you're reading this) from USAFA with '08. She left USAFA for a year to study Mandarin in mainland China (wow!), was a perpetual Dean's lister and will be attending grad school after graduation. Buck is a Southwest captain as well as the chairman of their military committee coordinating SWA folks being deployed in the Guard and Reserves. They also just finished their retirement home in South Park CO which is 25 minutes from Breckenridge. Teresa still plays tennis as well as enjoying skiing with her doolie roommate Allene Saleck.

Mike Spain wrote that he still flies for Delta as a Salt Lake City domiciled 757 Captain along with doing contract administration work for the local Air Line Pilot's Association council. Oldest son Robby is at Camp Bondsteel, Kosovo with his Army National Guard Unit as a Blackhawk helicopter crew chief. Other son Mark just graduated from Southern Miss in Dec and will be teaching along with hopefully coaching high school football. Other Delta classmates Mike has run into lately include Tom Kana who is an MD-90 first officer commuting from Denver (Tom helped Mike out quite a bit with retirement planning and financial advice) and Mark Apfel is an MD-90 Captain also in Salt Lake and living in Dallas.

Francisco Torres sent the picture below of (L to R) Alex Trujillo, himself, and Glenn Spears. Francisco and Alex are in the Miami based AOG South Florida Chapter where Glenn was the guest speaker back in February. Glenn is still the U.S. Southern Command deputy as was mentioned in the last article.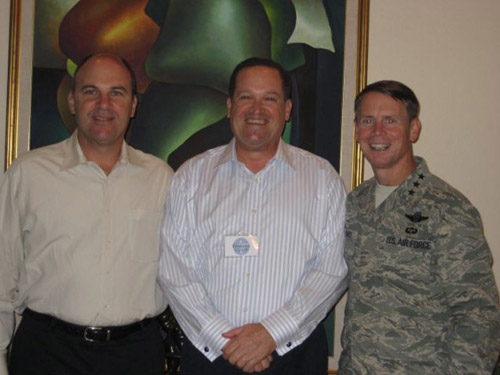 Gordy Curphy is keeping extremely busy in the leadership consulting business. He earned his PhD in Industrial/Organizational Psychology at the University of Minnesota several years ago between twin teaching tours at the Zoo back in the early 90s. While there, he co-authored what has been the #1 selling college textbook on leadership for the past 15 years: "Leadership: Enhancing the Lessons of Experience." After separating from the AF, he spent the next several years doing leadership consulting in the private sector. The main focus of his company involves getting the right people into leadership positions, developing their leadership skills, getting groups of leaders working better together, and helping leaders develop organizational strategies and drive organizational change. His latest effort will be titled "The Moronization of Management" and will describe why there is currently a shortfall of leadership talent and what people can do to make up for it.

Gordy has also run into some classmates as he travels: the aforementioned Tom Keohane, Brad Creed, (also a Northwest captain living in Michigan with two small children), Dave Roetzel (Delta captain), and over the holidays last year he had dinner with Steve Asbell (captain for Alaska Airlines and also still plays hockey). Keep up the good work Gordy!

Fellow Bulldawgers Ted Roush is the Science and Math Dean at Pima Community College in Tucson while John Parrott is the Deputy Director of the Ted Stevens Anchorage International Airport. John has about 300 state employees working for him and flies his TriPacer on the weekends along with a recently purchased Cessna-180 that he'll put on floats this summer.

Chuck Chuva (Northwest captain…is there a trend here?) is one proud dad! Son Dean is in the USAFA class of 2009 and on the academy boxing team. Those facts in and of themselves would make any dad proud but Dean went a bit farther this year. He won his title bout at the Nationals in Reno to become the National Collegiate Boxing Champion for 2008 in the 112 lb weight class! An additional joy for Chuck was connecting with former 3rd Squadron roommate Keith Wilkinson at this years Wing Open Boxing Finals. Keith and his wife Julie retired O-6) from the AF recently (as an O-6) and are living in the Springs.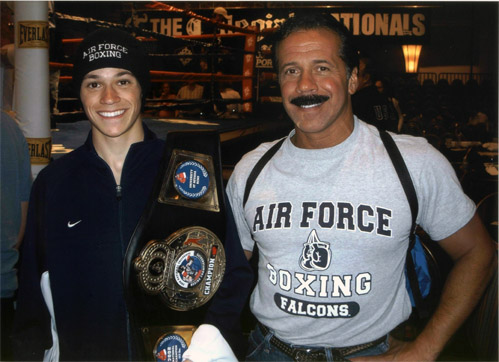 The slate of 78'ers on the current two star list released in March included: Don Alston (Nuke ops on the Air Staff), Paul Capasso (Command, Control, Communications for Africa Command), Jay Lindell (Deputy Air Power boss in Afghanistan), Punch Moulton (Dep 7th AF CC in Korea) , and Mike Snodgrass (also at Africa Command as the Chief of Staff). Congrats to everyone!

Finally, some retirements and a couple moves: Joe Mudd is currently the Deputy 12th AF commander at DM and will hang it up in October. Dave Morte is the Director of Analysis and Lessons Learned at 9th AF at Shaw and retires in June and finally Blake Lindner worked somewhere in the Pentagon and retired in May.

Speaking of Jay Lindell, he'll be returning from Afghanistan to the Pentagon in the Asst SAF for Acquisition office. Rick Devereaux will give up the 82nd Training Wing at Sheppard and move to Scott as the Deputy A3 for Mobility Command.

My sincere thanks to everyone for the great info this quarter. Please make your reservations NOW for September…see you then!

78 is Great!


---
---