Checkpoints Winter 2011
Greetings 78ers from sunny California…we may not have any money in this state but we still have plenty of sunshine and great weather. Guess that´s why we stay here…that and that nice-to-have entity called a job.
Anyhow, been kind of a slow quarter news wise. My bride and I schlepped to the Army-Navy game in December having more than a great time. We took our youngest son who has a dream of playing football for…uh…West Point (this is killing me)! Our squid son (second semester senior going USMC Infantry after grad school) drove up with the rest of the Brigade allowing for a most enjoyable mini-family reunion. The bad news is that you almost were subjected to a family pic (complete with my "blood is thicker than water" Navy hat) taken in the stadium nose-bleed section where we were sitting (my ever present threat for due to lack of inputs!). It´s actually a pretty cool shot with the entire squid Brigade marching onto the field.
However, not to fear because the good news is that our own uber hero Jay Ellis sent some great pix and accompanying prose nine days before the article deadline. The occasion was Ed Rice´s four star pin-on and AETC change of command back in November. It isn´t every day that a classmate becomes a four-star and fortunately, Ed had a great showing of 78ers.
The first shot is of a mini 26 Squadron reunion after the ceremony with Ed´s four stars affixed (tough to see in the photo though). From left to right are Tim Parker (Susan), Jay (Merrill), Ed (Teresa) and Billy Nichols (Carol).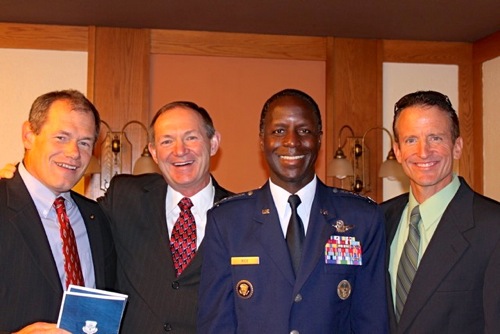 The next shot is later that night at Ed´s new house at Randolph Air Patch. Left to Right is Tanker Snyder, Jay, Ed, Tim and Billy.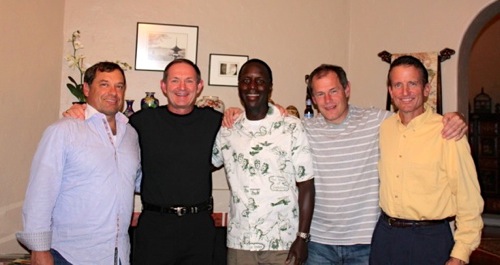 Below is a great shot of Ed, Teresa, Jay and Merrill looking disgustingly trim and healthy (yeah, I´m envious…I´ll admit it).
Rice and Ellis clans photo missing
The final photo is a picture of (front row) Billy, Jimmy Keaton, Tim and Jay at the last Beach-to-Bay Marathon Relay in Corpus Christi. They have run the race together every year since 2000, missing in 2002 when Jay was deployed after 9-11. Jay said Ed is going to join their team this year (in his free time I´m guessing!). The two gents in the back row are (left) a neighbor of Jay´s and Jay´s son-in-law, Major Matt Walsh, C-5 pilot and USAFA Class of 2000. .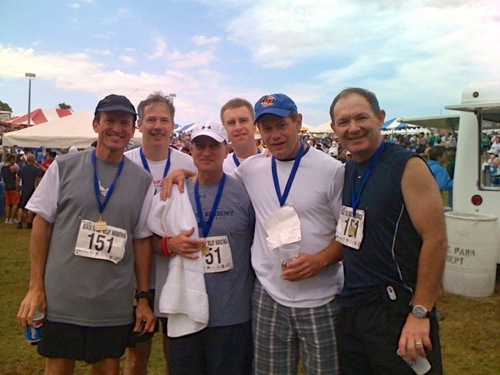 Much to his surprise, and pleasure, Jay´s daughter met and eventually married a Zoomie. They have a baby boy, Andrew, who would be USAFA Class of 2032 (Jay promised that there isn´t any pressure). Concerning the low down on everyone, Jay is in private practice as an anesthesiologist and pain medicine physician. He decided to rough it and retire in San Antonio Texas after 24 years in the Air Force. Tim is a captain with Delta, lives in Peachtree City Georgia and flies international routes. He is very active in the pilots union, and worked on the merger of Delta and Northwest Airlines pilots. Billy and Jimmy are both captains for American and living in Dallas.
Jay also mentioned that he keeps in touch with some other classmate docs who went directly from the Academy to medical school. Ken Kaylor (Karen) is an orthopedic surgeon and Director of Trauma for Kern Medical Center in Bakersfield CA. Marshall Wong (Melodie) also is an anesthesiologist and in private practice somewhere in the Dallas area. He and Jay were stationed together in Germany and at Wilford Hall. Chuck Milliken took a commission out of medical school into the Army and remains on active duty as an Army psychiatrist in the DC area. Chuck, Jay and Merrill got together for dinner on the River Walk a couple of months ago (one of the many perks of living in San Antonio). Jay further mentioned that Chuck has done a great deal of work on the Army's need for mental health treatment for returning veterans of Iraq and Afghanistan. Great input…thanks again Jay!
In other news, a few of our G.O. classmates have retired from the AF in the past few months. Two-stars Bob Steele, Kevin Kennedy, and Keye Sabol all have moved on to the civilian world but unfortunately I´m not sure where they went or what they´ll be doing. Steve Sargeant has also moved to San Antonio but isn´t retired as far as I know. Not sure what he´ll be doing there.
Well gents, that´s all in the mailbag this time. Please follow Jay´s lead and contribute or that Army-Navy picture will somehow show up.
God Bless
´78 is Great!
---
---