Checkpoints, Class of 1978, June 2017
Greetings 78ers…
Hope this finds you all enjoying the last vestiges of Spring as we move into Summer. With all the rain we had here in lovely So Cal, it should be a nicer than average, especially up here in the high desert.
Anyhow, my sincere thanks in advance to the folks who sent info/pix in this quarter. I won't repeat myself by saying that the quality of this tome is only as good as the info I receive…rats, I did J.
First out of the chute is who I believe was our last classmate in uniform to retire after 39 years of faithful and exceptional service. Herb "Hawk" Carlisle hung up the spurs with a traditional "fini" flight and retirement last month in March (writing this in April). The ACC website had a couple of in depth articles and several shots of the event. Pictured below were the three gents who flew with him along with one of his former crew chiefs (now an E-8).
For the actual ceremony JJ Jackson (whose retirement we were able to chronicle back in the Dec '16 article officiated by Hawk) sent in an excellent shot of the classmates who were able to make it to the event. It certainly is a big deal when a four-star retires and the several classmates who were there made it doubly so. From L to R are: Rich Shook, Dave Scott, Lance Undhjem, John Weida, Hawk, Vince Wisniewski, JJ, and Dave Lengyel.
Hawk and bride Gillian are building their dream house in historic Mount Vernon. He's certainly not going to be sitting around as the National Defense Industrial Association (NDIA) announced in mid-March that Hawk will be their new President and CEO. Congrats Hawk and all the best on the new job.
JJ mentioned that he's loving life (and all his newly found free time) flying for Southwest. He also stood up an LLC and will be doing some consulting in the DC area while they stay there. Something tells me the consulting gig will take up some of that free time.
Rich passed on that he's working as the Sr. Manager for USAF Customer Programs at GE Aviation. His main customers are ACC and AETC where Hawk was his #1 customer…it is a small world indeed. My thanks to all of you for the outstanding information and pix.
George Ka'iliwai sent in a tremendous shot of he and Larry James receiving some highly special awards at the Engineers' Council 62nd annual honors and awards banquet. The council was founded in 1955 and is one of the preeminent engineering organizations in the country. With the rich aerospace history that California enjoys (and thankfully still advances when companies aren't moving out of the state) the Council has an elite positon in the discipline.
Larry is still the Deputy Director for JPL (Jet Propulsion Lab) "down the hill" in Pasadena and received the Leonardo DaVinci Saper Vedere Award (Saper Verde means "know how to see"). I was able to abscond a copy of the event program and the award was explained with the following:
For his many decades of service and innovative development across the Air Force and the Jet Propulsion Laboratory. He is a nationally-known space leader and engineer who was on the forefront of Global Positioning System and advanced space guidance systems development, critical space situational awareness innovation and historic earth-science spacecraft operations. His service and leadership across an incredible variety of spacecraft, launch, command and control, surveillance and scientific exploration programs exemplify the true renaissance nature of Da Vinci, driving us to the farthest reaches of human knowledge and capability. He truly embodies "To Know How to See."
Not to be outdone by his classmate, George received the "Kelly" Johnson Skunk Works Award for:
Kelly Johnson invoked a dedicated team to achieve program success quickly, quietly with quality and without the encumbrance of unnecessary process. Dr. George Kailiwai's consistent and persistent execution of national need programs exemplifies the foundational elements of Kelly Johnson. His leadership instilled within critical national need programs continues unabated today in the rapid development of engineering requirements, employment concepts of operations and insertion of game changing technology into the capabilities of the Department of Defense through his steadfast leadership as the Director of Resources and Assessment (J8) United States Pacific Command. He is recognized for his action in defining the need, the development of the solution and the fielding of critical technologies and high priority programs to ensure our Nation's Airmen never enter a fair fight while consistently exhibiting Kelly Johnson's Rules of Management.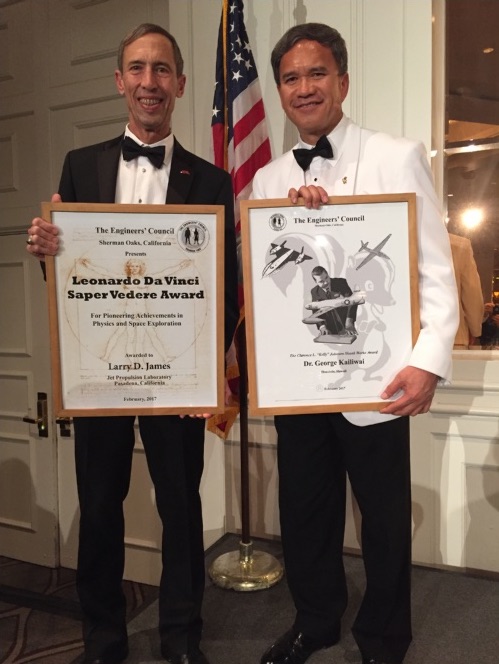 As stated in the write up, George is still loving life in Hawaii as the PACOM J8 but is thinking of possibly returning to the mainland (possibly CO) to care for his mom and be closer to son going to college. And…as you can see by the photo, George is back to his "USAFA weight" and says living in paradise makes it easy to do. Congrats to both you gents and thanks for continuing to make 78 Great!
Also heard from John "Obi-Wan" Oberndorfer who is living and working in NC. He's a manager for XLC Services in Greensboro and has a side job as a musician at the Carolina Renaissance Festival each October and November. He and bride Tammy have been married 37 years (well done Obi!) and have three grandkids with one on the way. Life is good…great to hear from you Obi and thanks. He would love to hear from former Red Eye (CS-25) classmates and is on LinkedIn and FB as John Oberndorfer.
Lastly, HIGHLY faithful '78 bride Amy Keohane writes that she and Delta Captain hubby Tom married one of their daughters on an 11,000' mountain in Telluride CO! The wedding was "spectacular" and certainly one to remember. The bride is finishing up her anesthesia residency in June then goes to Nellis (USAF Capt). Her identical twin is a professor at George Mason University in VA and the "baby" was recently accepted into five grad schools (including Harvard) and is currently deciding which one to attend. Wow…some amazing ladies Tom and Amy have raised! Tom is still captaining A330s out of Minneapolis and Amy was able to join him for a Japan layover recently (airline perks). Thanks Amy as always!
Hopefully you all received the message Wayne "Bees" Kellenbence sent out on 3 April concerning the 40th reunion next year (yeah, take a minute to let that settle in). He and Kip "Bonemass" Warton will be leading the charge from the Springs with several folks already offering to help. Cliff Huff is keeping the web site up to date (http://usafa78-is-great.org ) and I'll also keep the LinkedIn group (78 Is Great) current. Please keep the date open (probably September-ish) once it's officially announced. Bees can be contacted at: beesf16@hotmail.com .
Am happy to report that I'm running out of space so will close out this quarter's endorsement. Again, my thanks to all who took the time to write and hopefully more will follow suit. Enjoy your summer and God Bless.
'78 is Great!
---
---