Checkpoints Spring 2012
Greetings 78ers…
Back at you for this quarter´s installment. I hope everyone has had a blessed Christmas and New Years.
Would imagine most of you by now have heard the great news of Herb "Hawk" Carlisle getting his fourth star and PACAF command. Along with Ed Rice (still the AETC commander), we now have two classmates who are not only four stars but running MAJCOMs. Congrats Hawk!
Speaking of Ed, he officiated Steve "Burner" Sargeant´s retirement the end of October in San Antonio after more than 33 years of service. Ed and Steve were joined by a large contingent of classmates, some from as far away as Seoul Korea. It certainly was a "star studded" affair with Ed (first 4 star in the class) and Steve (first 78er to make 1 and 2 star rank) along with his lovely wife Vivie. Steve made specific mention of Kevin Cochran (CS-03 roomie) who "could not attend but sent a wonderful toast that was made by the MC at our retirement dinner the night before the ceremony." Thanks Burner for your many years of exceptional service to not only our Air Force but this great nation and many of our allies!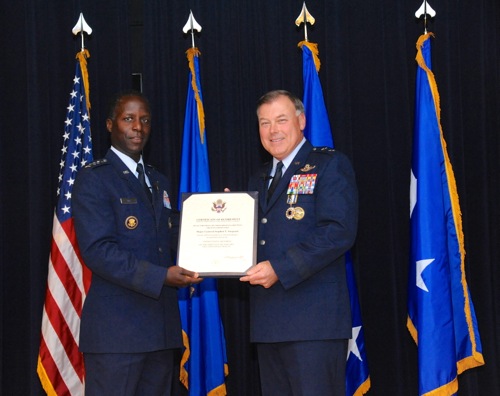 Next is something I´ve wanted to share even though you have to see a picture of my ugly mug…I have to admit though that this is fairly cool. Back in August my son (2015) e-mailed informing us that his Chemistry instructor was none other than Ron Furstenau. Ron has been teaching chemistry at the Zoo for decades (off and on since around ´84 I think he said…mostly on) and we had the privilege of visiting his class during our Parents Weekend trip last August. While in class, he shamelessly put on his original cadet A-Jacket that fit the same as it did when we graduated (unfortunately, I was not able to say the same even though I wore mine for the football game)! My son very much enjoyed having Ron as his instructor for the semester.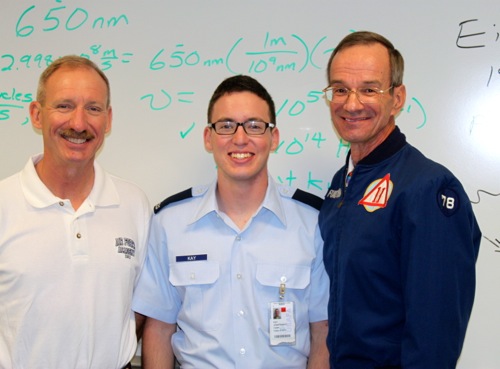 Bob Herris is still flying Predators at Creech AFB outside of Las Vegas. He deployed to Kandahar in November of 2010 for a few months then returned to Creech as the Squadron Chief of Stan/Eval. He thought he was just going to fly but apparently, the AF has other ideas. Bob was also slated to transition into the MQ-9 Reaper but our own Charlie Scott was the last retread (folks who came back on active duty post retirement) to attend the short course. Bob is hoping to extend in the program until January of 2014 (he´s on military leave from American Airlines). One reason for the extension is that his daughter (Capt Erica Weaver) recently PCS´d to Creech from Kadena and will be working as an Intel Officer in the wing while her husband (´03 grad) flies HH-60s at nearby Nellis.
Bob also had the honor of attending Jay Lindell's retirement in the Pentagon back on November 21st after his 33 ½ years of service. Jay´s final job was working for the Assistant Secretary of the Air Force for Acquisition as the Global Power Programs Director. The ceremony was held in the Hall of Heroes at the Pentagon, and presided over by the AF Vice Chief of Staff, Gen Phil Breedlove. Turns out Gen Breedlove and Jay were both Kunsan AB squadron commanders at the same time. For those of you who were never stationed there, the competition between the Pantons (35th Fighter Squadron) and the Juvats (80th FS) is in a word…intense. Bob commented that the bantering between squadron alumni continued right through the ceremony's remarks! Jay is moving to Colo Springs with some serious relaxing and decompression planned before beginning the next phase. In the great shot below, from left to right is "proud dad" Bob (he always had a lot of hair!), Bob´s daughter Erica, Jay and Bob´s son Kevin (T-1 instructor pilot at Columbus air patch). Since Jay and Bob married sisters, to his kids it was "Uncle Jay's retirement." Bob was more than thrilled to have both of his AF kids there in uniform during such a significant event for their uncle Jay. Bob said there were a other classmates in attendance, but unfortunately wasn´t an opportunity for a group shot. Thanks for the info Bob and thank you Jay for another great chapter of ´78 service!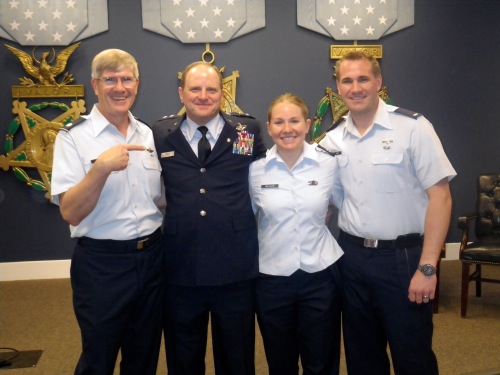 In some administrative news, I´ve started a LinkedIn group called (what else?) "78 is Great." I know several of us are on the website and other classes have a site so figured it was time for us to do the same. If you´re on LinkedIn, please consider going to the "Groups" section, search for the site and sign up. I had to close it to keep out the riff-raff so it will take a day or two to get a reply. This is a great opportunity for us to reconnect and network. Also, Cliff Huff has agreed to update the class website and certainly wouldn´t mind some help from anyone who is willing. Please contact him at cch@sei.cmu.edu if you´d like to help.
Speaking of LinkedIn, it´s also a great way of hearing what some of you are up to: Doug Benjamin is a Test Pilot with Boeing and shared that other Boeing ´78ers include Gary Meiser (777 Chief Pilot), Dave Carbaugh (Chief Safety Pilot) and Ron Lockhart (working the NextGen air traffic control project Boeing is doing for the FAA). RD Johnson is living in the DFW metroplex and still flies for American. He and Beth Ann are "almost empty nesters with two youngsters off the payroll. One graduates from Texas A&M this year and the other next year from South Carolina."
On a final note, Mike "Smacko" McMillie (working in A9, Analyses, Assessments and Lessons Learned, on the Air Staff) is still our eyes and ears in the Beltway. He and Pam (just retired from Fairfax Schools) recently purchased a small farm (largely trees) about 25 miles WSW of Fredericksburg. He reports that a couple of guys will be hanging up their spurs. Dick Newton (currently the USAF Assistant Vice Chief of Staff) reties in June and Rick Devereaux does so in July (Dick and Rick, if you read this, please send some pix and info!). Rick retires as the Director, Operational Planning, Policy and Strategy in Hawk´s organization on the Air Staff (A3/5 Operations, Plans and Requirements). Further, it turns out that Russ Frasz is an SES and Rick´s deputy. Bo Marlin is also an SES and the Technical Adviser for Intelligence, Surveillance and Reconnaissance Capabilities and Integration in Larry James´ organization (A2-- Intelligence, Surveillance and Reconnaissance). Great to see that ´78 continues to lead in many areas!
That´ll do it for this edition…my perpetual thanks for folks taking the time to let us know all that this great class is doing. See you in the spring.
God Bless
´78 is Great!
---
---