Checkpoints Summer 2012
Greetings 78ers…
Wow…seems like I just sent out the Winter article and here it is Springtime in the lovely California high desert already! The temp today was actually 93 (late April) so I guess winter is finally over—such as it was.
Actually a goodly amount of stuff to report this quarter…my heartfelt thanks as always to you guys who took the time to write and bring the class up to date.
First out the chute is Steve Fikar who is still living in Shalimar, FL (just outside Eglin). He and his bride Janet were married a few years back and built their dream home (sent a very nice picture of them back in ´06). He retired from the software business in 2005 and (in his words) "am now pretty much a bum, doing a lot of exercising, volunteering, and things around the house."
In the "It´s a REAL small world department" Steve further wrote that:
"A little over a year ago Janet and I went on a cruise around Italy and we spent a few days in Rome prior to the cruise. One day when visiting the Vatican, we were at the absolute top of St Peters Basilica at a little viewing area above the huge dome. There were only a few dozen people there. I just happened to notice a USAFA class ring on the guy standing next to me. I looked at the guy, not recognizing him at first, and I told him I had one of those too. To make a silly story short, he was Steve Whitman, one of the ´77 group commanders when we were 2nd classmen, and he was visiting the Vatican with his church group. (Steve is always featured in the Proctor & Gamble ads in Checkpoints.) We had a great time visiting and catching up that afternoon. In the attached picture look at the gold ball directly above Steve´s head. We ran into each other just below that gold ball, on the little viewing area at the top of the dome. Boy it´s a small world.
By the way, the cruise we went on was sponsored by the AOG. There were probably 20 grads on the trip, mostly older guys. It was fun talking to them. AOG-sponsored trips are pretty neat. I´d recommend them."
Even though it was sponsored by the AOG, the chances of seeing someone you actually knew decades ago seems fairly remote to me! Thanks Steve for sharing.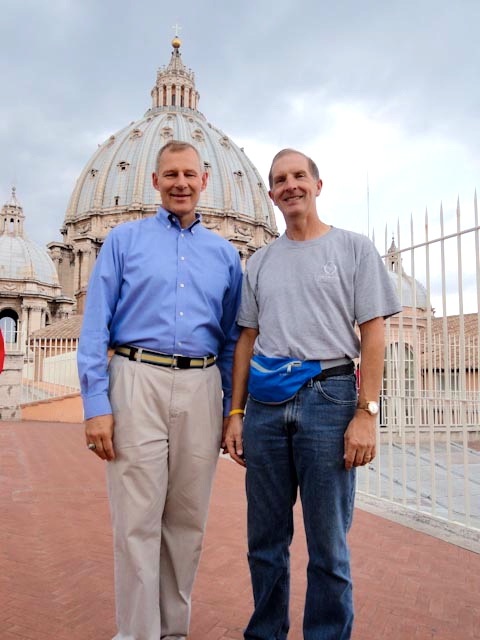 Former roomie Dave Wetlesen sent a couple of great shots. Dave went back on active duty in Sept of 2009 and has been toughing it out at Ramstein air patch. The first picture is him and Dave "Limo" Scott on the tarmac in Greece during a gas stop as they were traveling back from Africa. Limo is the USAFE A3/10 (Director of Operations, Strategic Deterrence and Nuclear Integration) and but will soon be hanging up his spurs and retire in the near future. Dave works in Limo´s group as the ISR Operations Division Deputy Chief (A3I).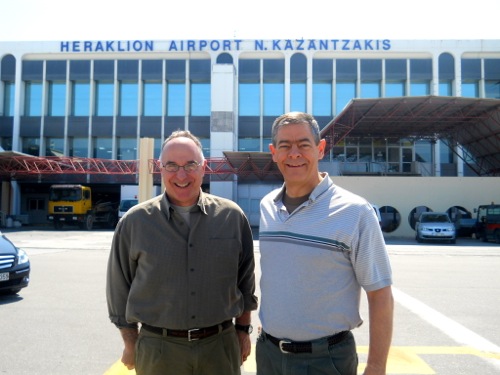 The second shot is a great close up of Dave, his son Capt Michael E. Wetlesen (USAFA ´07) in the background and Dave´s grandson Michael E. Wetlesen, Jr who was born on March 26th just after Dave returned from the aforementioned TDY. Michael is a Security Forces Officer at Sembach. Great timing Dave and some very cool pictures.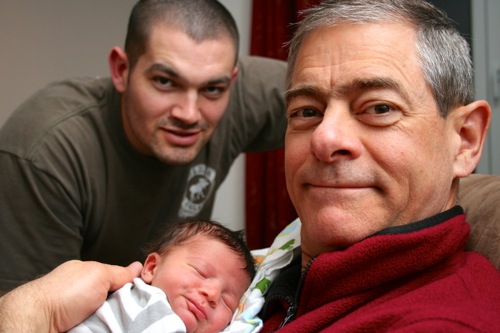 Received a nice message from Ken Charpie. After seeing the shot of Ron Furstenau in last quarter´s article it reminded him of the time back in 1984 when Ken was trying to get sent to school for his Chem masters so he could also teach at the Zoo. Unfortunately, during his
Chem department interview with the now Athletic Director, Dr. Mueh, he was told that a flash message had just been received stating that B-52 Navs were critical manned and no longer available for special duty assignments like USAFA. However, he was told 3 months later that he would be going to AFIT to get a Masters degree in Strategic and Tactical Science…go figure! Even though he wanted to teach at the Academy it all worked out. According to Ken, he is in the process of: "transitioning to my 3rd career now. After retiring, I took a contractor support position here at Wright Pat, and have been doing that since July 2011. Being in one place doing pretty much the same thing for 11 years now has gotten stale for me. So, I have cut that back to part-time work now, and am also working at Wright State University part-time, teaching in the Health, Physical Education, and Recreation Department. So, all these years after not getting to go teach Chemistry, I'm now teaching PE. My current class load this quarter is one section each of Scuba Diving and Advanced Scuba Diving. At the end of this year I intend to phase out the support contractor work and just teach part-time, and have a bit of leisure time." That all sounds good, especially the leisure time.
Ken also reports that he and Kathy are empty nesters with both kids being out of the Army and Navy, but are on opposite coasts starting their families. His daughter Kerry and family are currently looking to move from upstate New York (north of Albany) to New Hampshire. Son Kenneth and family is settled down in
Eugene Oregon. Great news Ken and thanks, sure you´ll enjoy all that scuba diving.
Couple of big items about ´78 doing more leadership and command. JJ Jackson will pin on his third star and become the Chief of the Air Force Reserve/Commander, Air Force Reserve Command. He´s been the deputy to the Chief of Air Force Reserve while on military leave from Southwest Airlines. Not sure at this point when it will take place but am hoping to get a picture of his pin on for a future article.
Also, Paul Madera has been named as the new Chairman of the USAFA Endowment (he was one of the Endowment´s first Founding Directors). According to the Endowment announcement, Paul "is currently Managing Director at
Meritech Capital Partners which is a $2.6 billion venture capital fund he co-founded in 1999. He invests in private technology companies in the SaaS, storage, e-commerce, financial, and medical device sectors. He has led Meritech's investments in several of the most successful tech companies of the era, including Facebook. He was named as number 30 on the Forbes "Midas List" of venture capital investors in 2011.
Speaking of G.O.´s a few other guys besides Limo are hanging it up after many years of service. Tom Owens has been the Aeronautical Systems Center commander at Wright Pat, Don Alston was commanding 20th AF at F.E. Warren and Mark Zamzow was the 3rd AF Vice at Mildenhall. Many thanks gents for all you have done for this great Air Force.
Unfortunately, I´ve run out of room again. Thanks again for all the great news this quarter. May you all have a great Spring…see you in the Summer.
God Bless
´78 is Great!
---
---