Checkpoints, Class of 1978, September 2017
Greetings 78ers…
Unfortunately, I need to open this quarter's article with some sad class news. For those who didn't see the late AOG June announcement, Bill (William J.) Shaw unexpectedly passed in May. He was a severe Trekkie and working as a NSA contractor at the time of his death. Due to a life long space fascination (he had wanted to be an astronaut when entering USAFA) he arranged for his ashes to be scattered in space at a later date. The following site has a great narrative on his life: https://www.celestis.com/participants-testimonials/william-jefferson-shaw/ . Due to the death of his mother-in-law dying of Alzheimer's, Bill and wife Oren were extremely active in fundraising for the annual Annapolis MD "Walk to End Alzheimer's": http://act.alz.org/site/TR/walk2017/MD-GreaterMaryland?fr_id=10483&pg=entry. The family has requested that donations be made to this year's event in lieu of flowers. For Beltway classmates, the Walk will take place on 22 Oct 2017. Details are on the website if you wish to participate and condolences can be sent to Oren at: Mrs. Oren E. Whyche-Shaw; 299 Aston Forest Ln; Crownsville, MD 21032-1605.
Talked to Kevin Kennedy after several years and he relayed sad news about Kip Self who is battling an advanced and aggressive form of ALS. Kip retired from the AF in Jan 2011 as the A-3 Director of Ops Planning, Policy and Strategy on the Air Staff. He and Sue eventually relocated about 25 miles NE of Charleston SC and recently celebrated their 39th anniversary (were high school sweethearts). Due to the disease, he isn't able to respond but would be most blessed to hear from us. His address is 7861 Doar Road, Awendaw, SC 29429 if you wish to send a card or letter.
Kevin and Allison have stayed in Herndon VA after his Nov 2010 retirement as the J8 for US Joint Forces Command. He's involved in a non profit organization that assists former junior enlisted folks in finding jobs in the telecom industry…have placed about 1000 so far. He sent the shot below of 78 retired general officers that was taken at the annual CSAF forum this past April at Andrews (Kip was with the group last year and Kevin sent him the picture). From left to right are: Gary Dean, John Weida, Bob Steel, Paul Capasso, Steve Sargeant, Dave Scott, Joe Reheiser, Bill Chambers, Glenn Spears, Kevin, and Rick Devereaux. (Tom Owens was present but missed the photo). My sincere thanks to Kevin for the news and helping Kip.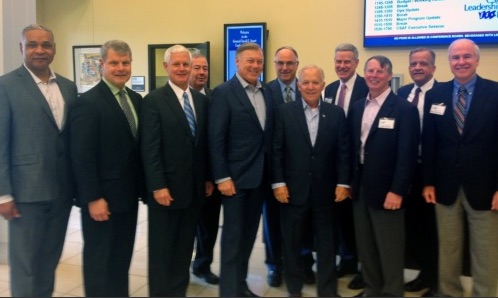 I reported last article how Tom and Amy Keohane's daughter was married on an 11,000' mountain in Telluride. Also their youngest daughter was deciding on which of several grad school to attend…she decided on Harvard (tough problem to have). Amy sent this great shot of Tom's niece Megan who just graduated from USAFA in 2017 and is enroute to Vance for UPT. A few classmates stopped by to celebrate her graduation. Left to right are Gary Hughes (American captain), Mike Catlin (defense contractor with UNORTHCOM and NORAD in the Springs) Tom (Delta captain) and Doug Paton (United captain). Turns out the Catlins sponsored Megan for the four years she was at the Zoo...small world indeed. Thanks as always Amy!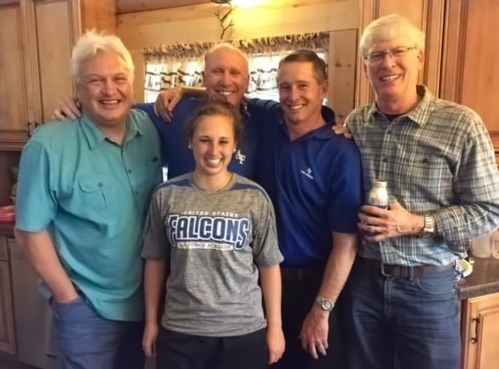 Mark Werthman (who said he still has his cadet stereo) recently picked up an Associates degree along with his helicopter CFI last fall (he was a F-111 WSO) and his instrument flight instructor ticket in March. He's pretty confident that the 2 1/2 years it took to get to this point were more demanding than getting through the Academy! He's in great shape and proves it in the Masters Track & Field events by attaining All-American status in our age group (400m, 800m, and 1500m events). In his words: "I tell myself that I'm putting in this effort for those who are ill or injured, busy with work or grandkids, or deceased. And that I'm doing it to motivate other adults to get/remain fit. And that I'm doing it to show little kids that adults exercise as well and so they should plan on it. Still, there is some chance I'm doing it for pure ego's sake. With any luck, I'll also make All-American in either the 200m or the 3000m before I injure up again. (Five inches higher on my relatively-recent pole vault PR would also be nice, but not likely this year, if ever)." Well done Mark…keep up the great work and certainly do hope you remain injury free.
Finally, Jay Ellis shared some highly motivating news. He's still in private practice anesthesiology and pain management in San Antonio but was diagnosed with lymphoma immediately following our 35th reunion. Chemo hit him hard…bride Merrill called the ambulance in the middle of the night due to a near fatal infection. He went back to work part time after a stay in the ICU and a prolonged convalescence. Several CS-26 classmates kept the pressure on as they had all run the Beach to Bay Marathon Relay in Corpus Christie TX for the past 18 years (except during Enduring Freedom). They coached Jay to run the race on same year he was in ICU…which he did (3 months after his final chemo treatment…wow). Jay credits God, Merrill, his kids, family and friends (the guys below greatly encouraged him when he was at his "lowest point") for recovering and being cancer free! The picture below is their final race in May. From left to right are Ed Rice, Jay, Jimmy Keaton, non-grad friend Don, Billy Nichols and Tim Parker.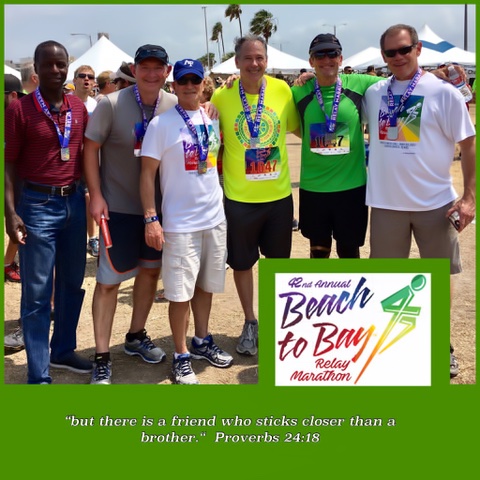 Jay further reports: "Ed works in a leadership position for United Way as well as having many other irons in the fire. His wife Theresa is also a cancer survivor having gone through breast cancer, making a very full and graceful recovery. Ed and Theresa share Spurs season tickets with us. Theresa is a diehard Spurs fan while Ed is a closet Lakers fan. I still take his money and let them go to the games because Theresa is such a devoted team supporter. Tim is a captain on the 767 for Delta meeting his wife Susan, while stationed at Bentwaters and are planning a move to England. Billy is a Capt. on the 737 for American and lives in Dallas. Jimmy is a check airman for American on the Airbus and lives in the Dallas area as well. I am in good health and 18 months out from maintenance chemotherapy. I'm fit enough that I finished in the top 500 in the world in my age group in the CrossFit games, my age group being very old guys who shouldn't do CrossFit." Way to go Jay…congratulations on not only getting healthy but being amazingly fit. Sure see a trend going here gents…I'm now officially motivated to get back to the gym!
That's a wrap for this quarter. My sincere thanks so much for the info. May everyone have a blessed Fall and we'll be back in December. God Bless…
'78 is Great!
---
---