Checkpoints Winter 2014
Greetings 78ers…
I certainly hope all is well this cold winter for those of you dealing with the Polar Vortex… or whatever it's called. I think "Winter" is an apt description.
Heard from Bob Herris who as you might recall, took military leave a few years back to "re-up" in the USAF as a Predator/Reaper pilot. He completed his commitment back in November and is now back at American Airlines for the last few years until retirement. I personally appreciated his desire to keep serving even after his military retirement...an apt testimony to our class. Thanks Bob for what you did, hope you enjoy some higher seniority.
Around the time of the reunion, Bonne Weida sent the below shot of three guys (all retired two stars) hanging out at Rick and Elizabeth Devereaux's beautiful home in Asheville NC. As you saw in a past article, Rick retired last year and is working on the next phase. From left to right are Rick, John Weida (A5X on the Air Staff: Dep Director of Ops Planning, Policy and Strategy), and Kevin (Allison) Kennedy (VP Strat Development/Assessment for Textron in D.C.). Nice scenery in the background Rick, think I see why you live there!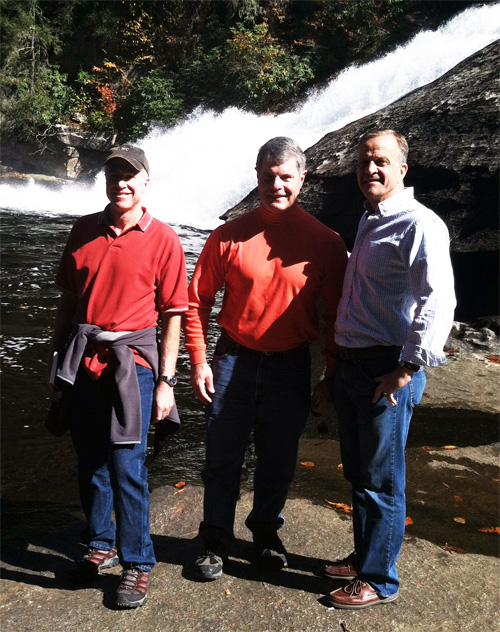 Speaking of retirement, want to give the remaining space to fellow Bulldawger Al "Mad Al" Myers who retired the last week in January at USAFA. Al truly distinguished himself by becoming a three star Admiral in the Navy (tough time during the USAFA-USNA game!). He was the first (and I believe still the only) USAFA grad to command a carrier as well as a Carrier Strike Group. At one point, he was responsible for every airplane that flew in the Navy and the Coast Guard.
The ceremony was officiated by the current Supt, Lt Gen Michelle Johnson. The special touch was Al's dad being there to not only observe but to serve in a special role as you'll read later. To give a bit of comparison, the picture below was during the CS-13 commissioning ceremony the night before our graduation. From left to right are 2 Lt Gary Storie, Ens Allen G. Myers IV, Col Allen G. Myers III and 2 Lt Bob Ireland.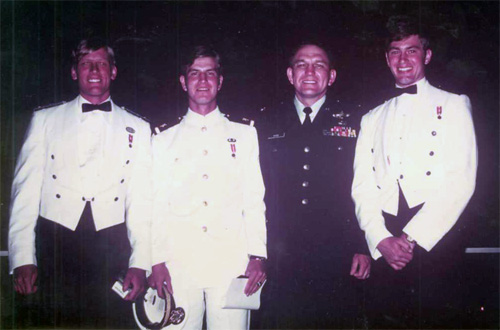 Fast forward 35+ years to his retirement with (L to R) J.B. Betz, Al, Col Myers and Tom Lash (JB and Tom stood in for Gary and Bob who couldn't make it)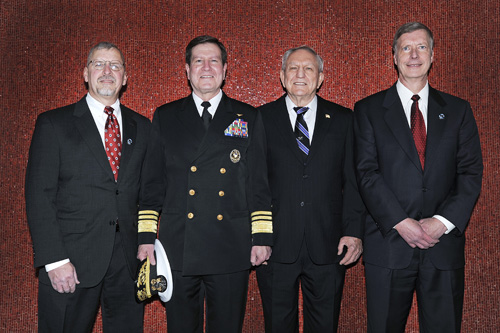 Al was kind enough to send the pix as well as his remarks. I've posted them here because they are truly excellent–I believe they capture the essence of USAFA and what we as a class did, regardless of our AFSC or the color of uniform we wore. Thanks Al… well done.
Thank you, Lt Gen Johnson, for being kind enough to host this ceremony – to return to the Academy (the scene of the crime, if you will) and come home to close out my career where it all began.
Thanks also to your Staff, Claude Skelton your Protocol Officer, and C3C Steven Brandt from 13th SQ for escorting us, and C1C Daniel Barringer, who is getting ready to begin a similar Navy journey – more on the Cadets later.
And to my fellow Bulldog classmates – John Betz and Tom Lash. I've missed you over the years and your presence completes this event.
To my Mom & Dad (Mom couldn't be here) for their endless support and channeling my energy so positively… getting me to this place.
My wife Judy and Son Allen & Daughter Morgan – all busy back in VA, pursuing their own transitions, for their love, reinforcement and support.
I've wanted to Fly for as long as I can remember. At first, I didn't know why, but it's what my Dad did… and growing up in AF communities, it's what everyone's Dad seemed to do.
So I set out to pursue my dream, and coming to USAFA, to facilitate that dream, became my focus throughout H. S.
When I arrived here, it was everything I expected. Tough, disciplined, and challenging. What I didn't expect is that my vision would slip, and my dream of flying was fading my Junior Year.
So I looked into the Navy, and discovered that they would not only welcome me in their tactical aviation program, but also offered me opportunities to command. So I pursued my dream to cross services at graduation and into flight school through another service.
It took courage to leave the comfort of AF Blue, but my dream was worth it. This institution, the Academy, was pivotal in helping me pursue my dream – with the support of my parents.
In the Navy, I discovered camaraderie very similar to what I learned to appreciate at USAFA – in my squadron – the closeness and feeling of belonging.
In some ways, going to sea was like being here again… but in a good way, doing something I believed in.
In the Navy, I felt like I was making a difference… in the air, on our missions, with my maintainers and crew, and to our Nation.
It was easy to believe in Naval Aviation and in our Navy. If felt like I was finally in my element – making a difference every day… and doing something I believed in.
I was fortunate – in the opportunities the Navy afforded me; Sq Command, Carrier Command, Carrier Strike Group Command, flying Phantoms Tomcats & Super Hornets, and finally Command of all Naval Aviation.
Looking back, I was lucky.
Lucky to have a Mom & Dad that were my role models and heroes – a Test Pilot, Command Pilot, and Wing Commander, and challenged my thinking & decisions Lucky to have the opportunity to come here, where I learned time management, the value of camaraderie, honesty & challenged me to focus on tasks at hand Lucky to serve in the Navy – where everything I learned at home and at the Academy were applied. And to apply what I learned to make a difference – every day – in decisions, in the lives of those who worked for me, to our mission… all while believing in our leadership, my wingman & shipmates, and our mission – leaves me with a sense of satisfaction & accomplishment.
And lucky to have an incredible family – wife Judy and son Allen & daughter Morgan – all amazingly successful and supportive.
I missed my classmates, over the years, and coming back here is like returning back after a long deployment… proud of what we've done, but relieved to be safely home.
For the Cadets – have the courage to pursue your dreams.
And for the Academy – have the courage to help make those Cadet's dreams come true.
The AF Academy made a difference in my life… and those I served with in the Navy.
I believed in the Academy then, and I still believe in this institution today… it will continue to make a difference and shape our military through the careers of their graduates, and make dreams come true.
God bless the AFA, our Navy & Nation. Thank You
I will now render my final salute to my Dad, who swore me in over 35 years ago and who I gave my first salute as a commissioned officer.
God Bless
´78 is Great!
---
---