Checkpoints Fall 2013
Greetings 78ers…
For those who missed the 35th Reunion, it was truly a grand time...these seem to get better as we get older (yeah, that's it)! Nearly 300 of us showed up for the festivities and the stories got better as the week progressed. From the initial mixer Wednesday night to the last event at the football game Saturday night (well…at least we showed up even though the game wasn't pretty…we sure were cheering loudly) it was a reunion to remember. At both socials, my wife got tired of me saying I'd be "right back" with something to drink and then taking 30-60 minutes to finally get back after talking to so many people!
Huge thanks to the reunion committee ably led by Wayne Kellenbence and joined by Dave Scott, Punch Moulton, and Jay Lindell. Further, Dave, Kip Warton and Steve Dalbey did an exceptional job with the Memorial Service. It was the first time I remember the service being in the Protestant Cadet Chapel verses outside and I personally thought it was a great touch. John Hicks worked the golf tournament as he did for the 30th. I'm the world's second worse golfer (haven't met the worse yet but know he's out there) so didn't partake but heard it was also a class act. The AOG, with our rep Sara Dozier, truly had everything under control and provided not only superb service but they were extremely responsive to any requests that were made. The red hats with the '78 crest on them were a nice touch as was the '78 flask (am guessing those will find much use class wide in the future). The committee made the right choice with the Embassy Suites. The hotel staff was most attentive and all the food was excellent. If you weren't able to make it, hopefully you'll be able to make the 40th (yikes…we'll be 62 years old at that??).
I have received some class photos that were taken during the week but other info and space will prevent me from posting them all this time. I'll make sure to post the rest of them in succeeding articles until all are shown. If any of you guys have a shot of the squadron event that you haven't sent in yet please consider doing so. Also, if anyone has a good shot of the final Jump Team member jumping into the stadium with the "78 Is Great" flag before the football game, please send it to me at my e-mail address above so I can run it next quarter. It was most special seeing that cadet glide in with our flag!
The first group shot is from Tom Keohane's bride Amy who is most faithful to send info and pictures. It's the boys from Barnstormin' CS-23 tailgating at the beautiful Black Forest home of Mike and Sharon Catlin. It looks like they might be enjoying many adult fermented beverages as they catch up. They probably had an above average squadron showing…good on 'em. Front row L to R is Tom Keohane, Mike Catlin, Gary Hughes, Chuck Brininstool and Doug Hagedorn. Back row again from L to R is Ken Baier, Mike Skolaut, Ben Troemel, Roger LaFrance, Lon Lowe, Pete Del Rosso (did not graduate but stays in touch) Doug Paton and Chuck Greenwood.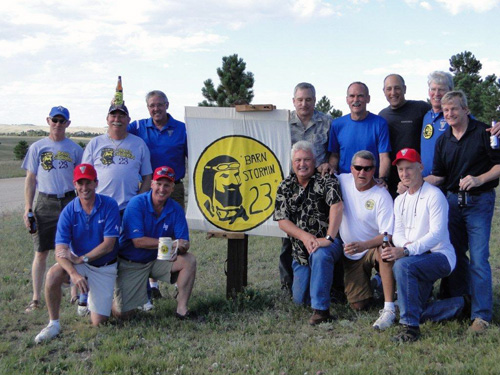 Greg Hollister's bride Sherry sent in a group shot of the guys from CS-25 also before the game. The Duece and a Half actually belongs to Greg and Sherry…talk about a tailgating machine! From L to R are Joe Bunecke, Greg, Mike Wright, Terry Kelly, Ken Prusak and Mike Coulliard.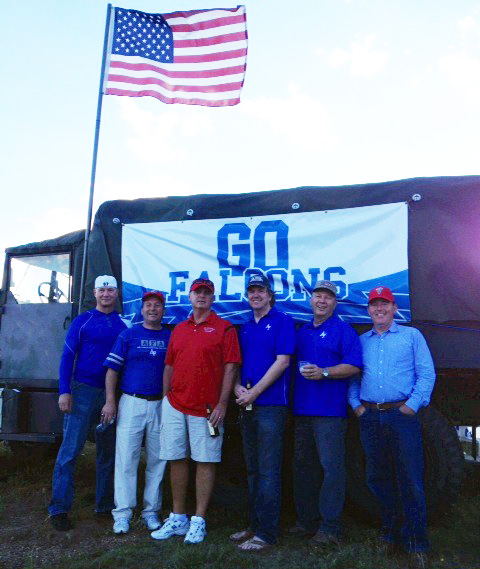 The final group shot this quarter (hint!) is from us Bulldawgers who met for lunch Saturday afternoon at a very cool restaurant downtown before the game. All of our wives were on hand as well…it was a tremendous time for those who were able to make it. From L to R are Lori and J.B. Betz, Scribe and Ellie Kay, Terri and Ted Roush, behind them are Tom and Terri Lash, Mike and Paula Ausserer, Rick and Eva Aulicino and Anita and Brent Bristow. What was special was how quickly all of us got caught up–seemed like it hadn't been five years since we all had been together. I talked to a few other guys in different squadrons and they basically said the same thing. It might be endemic to the institution but our class is certainly close.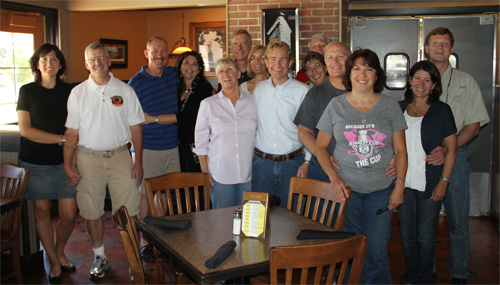 Some of our final active duty classmates are going through transition as they retire from the AF and move into civilian life. First one is Larry James who retired as the A-2 (Deputy Chief of Staff for Intel, Surveillance and Recon) on the Air Staff. Celebrating with Larry on his big day back on 28 June at the Pentagon are Greg Hollister on the left and Rob Worley on the right. Thanks for so many years of faithful service Larry and all the best on the next phase.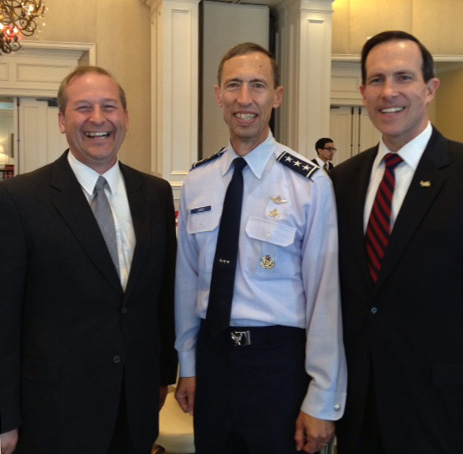 Finally, Ed Rice hung it up a couple of weeks ago as I write this (10 Oct) as the outgoing commander of Air Education and Training Command. Below is a great shot of Chief of Staff General Mark Welch having Teresa flowers as Ed looks on. As he and Teresa move into their "civilian" house Ed says he's going to just take it easy and relax a bit until starting post retirement work. You certainly have earned some time off Ed, thanks for your many years of faithful service as well. You and Larry most certainly did our class proud.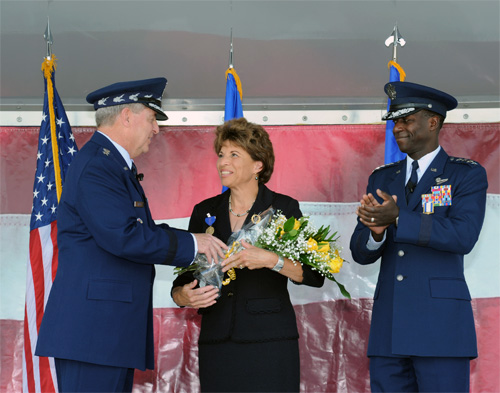 We'll call that a rap for this quarter's addition. My thanks for people sending in pictures and I hope there will be more next quarter. May everyone have a blessed Fall!
God Bless
´78 is Great!
---
---