Checkpoints Fall 2010
Bob Kay
40411 Tesoro Lane
Palmdale, CA 93551
Home:(661) 274-2201
Work: (661) 824-6426
Email: president@f4phantom.com
Greetings '78ers ...
I hope everyone is having/had a great summer.
Last article when I mentioned Bruce Gasper's passing back in April, I requested any info on the family's contact address. Dave Blisk came through with a link: http://www.waynesvillememorialchapel.com/visitations/ View.php?id=338 that was still working as when I wrote this in mid July. It has an exceptional bio along with the family's choice for memorial donations. Thanks Dave.
We have a lot of great info for this installment. Several of you answered my plea (a couple before I even made it!) in the Spring article for more info starting with Kip Warton. Back in April, several guys who were in the 48th TFW (F-111 at Lakenheath) got together to celebrate the 24th anniversary of the famous Libyan raid (25-16 Apr 1986). Kip said it was an amazing time for everyone concerned. From left are: Jimmy Stewart (United pilot), Jack Swarsbrook (Southwest pilot), Ted Otero (Jet Blue pilot), Mark Renelt (also Jet Blue), Tom Bell (not sure where or doing what), Don Blackwelder (current location unknown), Jay Lindell (only active duty guy in the group and is a two-star at the Pentagon) and Kip (Flight Screening IP for Doss Aviation in Pueblo but living in the Springs). Great pic gents ...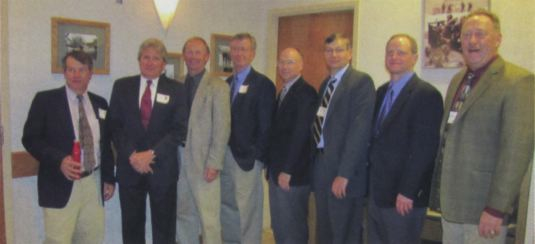 Tom Owen also sent the following pic of a manly group of guys who performed a special event on the east coast. Seems these very hardy '78ers joined some other grads who decided to belay their age by making a bicycle trip from Boston, PA (near Pittsburgh) to Georgetown near D.C. They spent five days on the road riding the 325-mile trek on the Great Allegheny Passage and C&O Canal trails (getting tired just writing this!). The group was 12 strong, all from the Victory Riders, a WPAFB confederation of military and AF Civilians, active duty, retired and spouses. The shot occurred on day 4 when they rode from Hancock, MD to Harpers Ferry, WV. Tom is third from the left and Dave Eidsaune is on the right of Tom. Dave's wife, Jane, also made the trip! Tom is still the "mayor" of Wright Pat as the commander of the Aeronautical Systems Center and Dave is the AFMC DO.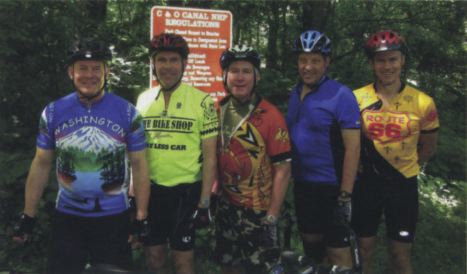 Gary White wrote his first Checkpoints contribution bringing us up to date since graduation. He went to UPT at Vance and ended up with his first choice of aircraft and second choice of base: a C-141 to Norton AFB. After 2 years at Norton it was off to Reese as a T-37 instructor for the next 4 years then back to Norton for another 2 years. He separated in '88 and was hired by Delta while staying at Norton in the Reserves (retiring in 2007). He's flown every Boeing variant at Delta to include 75/767 captain out of lAX. After some medical issues that sidelined him for a couple of years he's working on getting back on flight status with Delta. He moved back up to near his old home town of Scappoose, Oregon in late 2008 and bought some property on the Columbia River. He's been single since graduation so no info on wife and kids.
Gary reported that Oly Harrison (flies for United) and wife, Tracy, are living in C Springs. Art Moye is flying for Fed Ex out of a base in China after flying Wild Weasels out of UPT. He is also in e-mail contact with Ken Gronewald who flies for Alaska out of Seattle. Great to hear from you Gary ... thanks!
Ex roomie Steve Slick left his day job as the 94th Mission Support Group/ CC at Dobbins and took command 506thAir Expeditionary Group at Kirkuk Air Base, Iraq for a year. A shot of his change of command is below.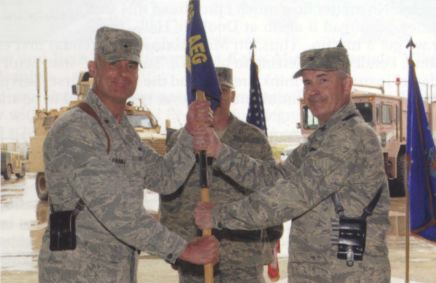 Quite a bit of other '78 activity this quarter: I reported last article that Ed Rice was selected for his fourth star and will be the commander of AETC in the near future (may be in the chair by the time this is published). AI Myers recently put on his third star and "owns" ALL of naval aviation as the Commander, Naval Air Forces (CNAF) in San Diego. He'U be especially busy next year with the centennial of naval aviation. Roger Burg has decided to hang it up as the 20th AF/CC at F.E. Warren. Don Alston will leave his job as the AF A-10 (Assistant Chief of Staff, Strategic Deterrence and Nuclear Integration) and replace Roger. Bill Chambers wiU leave Ramstein as the USAFE Vice to replace Don as the A-10. Marke Gibson will retire in January from his job in AF A-3. Doug Raaberg retired a few months back and is now the Northrop Grumman BD director in their D.C. office. He was deployed three of his last five years in the AF and is enjoying being home some (he and Claudia bought their first house in Fairfax Ciry VA). Doug mentioned that son Curt (USAFA '07) flies KC-10s out of Travis and also deploys to the desert often. Doug and Steve Goidfeln work in the same building for Northrop.
Speaking of G.Os, Steve Sargeant (currently the AFOTEC commander at Kirtland) sent the pic below from CORONA TOP this past June at Wright Pat. Am guessing that we had the most G.O.s there of any class with nine! Pictured below are the guys who participated. From left are Roger Burg, Steve, Tom Owen, Ed Rice (5AF/CC Yakota), Garry Dean (2AF/CC at Tyndall), Glenn Spears (12AF/CC D-M), Jim Rubeor (22AF/CC, Dobbins), Larry Dean (14 AF/CC, Vandenberg) and Hawk Carlisle (13 AF/CC Hickam).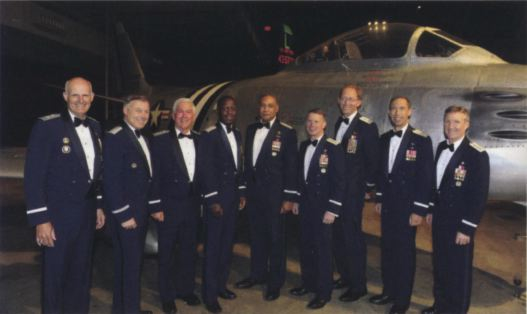 One final note, our class prez, Steve "Dalbs" Dalbey, along with the AOG have been working with Rob Balzano ('93) who is the director of Military Sales for Chase-Durer Watches. Chase Durer has put together an exceptional deal for a unique '78 watch that you definitely want to take a look at. The site is http://www.chase-durer-military.com/usafa1978/ and well worth the time to take a gander.

That'll do it for this quarter. Again, my sincere thanks to everyone for their contributions and please keep sending stuff in!

God Bless. '78 is Great!
---
---