Checkpoints Winter 2010
Bob Kay
40411 Tesoro Lane
Palmdale, CA 93551
Home:(661) 274-2201
Work: (661) 824-6426
Email: president@f4phantom.com
Greetings 78ers ...
I regret having to start this quarter's installment with the sad news of Mark Kargul's passing on 22 Sep 2010 in San Clemente, CA as the result of cancer. Services were held on 10 Oct 2010 in San Clemente with Mark's fi nal resting place planned for USAFA. Our hearts and prayers certainly go to Susan where condolences can be sent to 3819 Vista Blanca; San Clemente, CA 92672-4545.
Ron Eifert's bride, Cele, sent a great message with several pictures and lots of info. They took their oldest son, Carl, to Camp USAFA in June and he is now a proud, accepted member of 2014 (has it been that long?!). Cele continues that Carl graduated with honors at the end of May with fellow '78er Mike Valdivia in attendance. Turns out that Mike was best man at Ron and Cele's wedding back in Oct 1987. Not only did Carl receive his nomination from Georgia Senator Saxby Chambliss but he got a call from Sen. Chambliss personally to inform him of the appointment! His (Carl that is, not Sen. Chambliss) Doolie squadron is CS 18 but will move to Ron's old squadron of CS-9 after the "Doolie Shuffle" next year. Carl is majoring in Civil Engineering, runs on Varsity Cross Country, is set to run steeplechase/ distance events for the Track team and (of course!) wants to become a pilot like his dad. '78 is taking care of its own with Carl's sponsor family being Joe and Anna Marie Mudd.
Ron is an MD-88 Captain with Delta Air Lines based out of Atlanta and the Eiferts live in Peachtree City, GA. They have another son, Robert, who is a high school junior and avid golfer. .. no info on whether young Robert has designs to follow in both his dad's and brother's footsteps. Cele mentioned that two other Viking-9 '78ers living nearby are Brian/Debbie Scott and Don/Kathy Harper, both of whom fly for Delta.
Cele sent a couple of great pix. First one is Ron and Carl on Acceptance Day.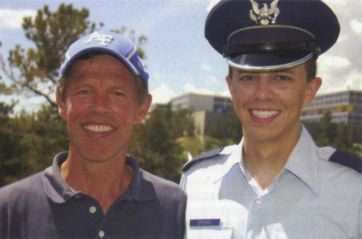 Second one is a great shot of Joe and Anna Marie Mudd with Carl before his entry into the Academy!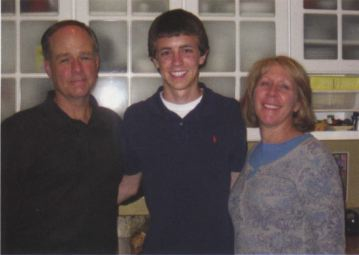 This was an amazing quarter to see some classmates that I haven't seen in decades. What truly struck me was the special nature of our class in that it seemed like a year or two since meeting last. Seems to be the standard with any '78er that one meets. First event was dinner with former Bulldawger Vice Admiral AI "Mad AI" Myers. As was mentioned in the last article, AI is now Chief of Naval Air Forces in San Diego. I erroneously mentioned that he owns everything that flies in the Navy .. . AI mentioned that he also is responsible for all aircraft in the Coast Guard! Now that's a tremendous amount of responsibility. My bride, Ellie, and I had a great 4-hour dinner with AI (his bride Judy was back in Virginia packing up the house) at an exceptional Mexican haunt in Coronado. Of course, my old camera didn't work so you all are spared having to look at my mug (uh ... not so lucky later on though) but trust me when I say that Navy life has been very very good to Mad AI! He really didn't look much different than our cadet days ... maybe it's that salt air.
Another very cool meeting was during a trip to Panama City, FL this past September. Remembering that UPT Classmate Garry Dean is the commander of 1" AF (AFNORTH) I called his office and rolled the bones on his actually being in town. Fortunately he was and had some rare space on his calendar. We had a great chat for the better part of an hour as we got up to speed on family and what we've been up to for these many years. He has some absolutely beautiful daughters and keeps busy with their many activities. Was really great to see him and catch up after all of this time. He mentioned a few days later that he went to Vandenberg to see Larry James (going from 14AF ICC back to the Air Staff as Deputy chief of staff, intelligence, surveillance, and reconnaissance or the A2) before his PCS back to the Pentagon.
Back in October, we had the chance to escape the Joshua Trees of Palmdale and get back to the Academy for the Navy game. Our Squid son (now a senior working towards USMC Special Ops) was able to travel out on the contingent for some "family time" watching AF squash the other Squids. We ended up sitting by the Navy gaggle and noticed a couple of senior Navy officers in front of the group. Sure enough, Mad AI was there sitting with the Navy Supt. this time with Judy. Got a chance to finally meet her and yak for a couple of minutes before the game started. Unfortunately he had to get back to California immediately after the game so didn't get a chance to talk or attempt another photo.
Ran into another UPT classmate Fred Zeitz with his lovely wife, Cheryl, at our hotel and he mentioned a 77/78 perpetual tailgate a couple of slots from the Athletic Department's site. When we arrived, ran into Dave Maher, Ernie St. Geiais, and Fred and Wayne Scheller. We reconvened after the game and got a quick happy snap.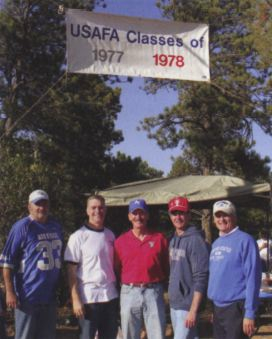 From left are Dave, Fred, Scribe, Wayne and Ernie.

Dave mentioned that this tailgate has been going on for nearly 15 years (might even be more than that but senility is taking over) and they have it EVERY home game. So ... you guys living on the front-range who go to home games would do well to check it out. The food was superb and all they ask for are donations to cover the drinks and bring an entree to share.

Some very significant GO moves this quarter. I've already mentioned Larry, but Hawk Carllsie is also leaving his NAF gig (7AF/CC) at Hickam and joining Larry on the Air Staff as the A3/5 (Deputy chief of staff, operations, plans and requirements). Dick Newton is leaving the A1 slot (Deputy chief of staff, manpower and personnel) to become the Assistant Vice Chief of staff and Air Staff director which I'm guessing means that Hawk and Larry will sort of work for him ... dotted line anyway. Two cool things about these moves: first of all, most of the guys that they replace went on to four-star jobs; secondly, in about a month or so, depending on confirmation and PCS timing, when you go to the US AF senior leader page there will be no less than four '78ers (along with Bill Chambers as the AlO) on the page when Ed Rice moves into the AETC/CC job. Finally, Rick Devereaux will be pinning on his second star and moving from being the commander of the Expeditionary Center at Fort Dix, N.J. to becoming Hawk's director of operational planning, policy and strategy.

Run out of room again ... many thanks for all the great news. See you in the winter article.

God Bless. '78 is Great!
---
---