Checkpoints Winter 2009

Bob Kay
40411 Tesoro Lane
Palmdale, CA 93551
Home:(661) 274-2201
Work: (661) 824-6426
Email: Robert.kay@baesystems.com

Greetings 78ers ...

Unlike last quarter's article, this one will NOT be brief so better get right to it. Big news is two "35 years from the start of BCT" (can you believe it? Uh ... the class going through now is 20 13!) events that transpired in Our Nation's Capital (D.C.) and in the Heartland (Dayton OH). Mike "Smacko" McMillie put together "Operation Great FalconXX:-09" on the first of July with an exceptional turnout. All together, 32 members of our great class meet at Champps in Pentagon Row. Smacko also sent the excellent pic below.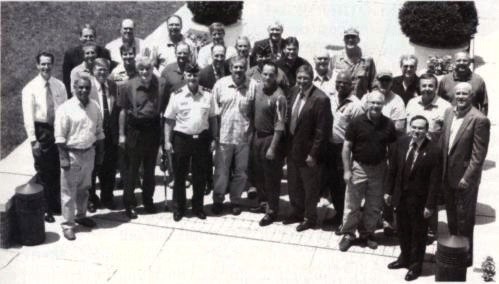 Front Row, kind a from left are John Hicks (works at Johns Hopkins), Rick DiCocco (only one with visible red suspenders!), Bob Steele (War College CINC), Dave Estep (Olstead Foundation Director), USAFA Football Coach Troy Calhoun (was in town on business and stopped by to talk football and the Indoor Training Facility mentioned in the last article- YOU all should have received Dalbs letter by now), Jack Kucera (Climatec Corp CEO in Phoenix who was traveling with Coach Calhoun), Martin Allen (SAIC manager),Rick Lehman, Bo Martin, Wayne Hermandorfer. Middle row: Paul McVinney, Larry Morton, Smacko (in front of Larry), Al Myers (Navy Staff), Jay Lindell (SAF/AQP). Lynn Hollerbach (SAF/AQPW contractor working for Jay), Steve Goldfein (Senior Director at Northrop), Mark Gibson (A30), Steve Knott, Jeff Cukr, Bob Gray (international consulting) Last row: Chris Krisinger, Donors Jeff Brake, Dave Blisk, Mark Brown, Steve Dalbey (civilian in OSD Policy). Chris Hood, Bob McMahon (A4L) and Larry Krnuser. Kevin Kennedy (Joint Capability Development director at JFC in Norfolk) and Sig Nelson (American) made it to lunch but had to leave before the picture was taken (hope I didn't buffoon too many names or jobs). Given the success of this and past events, Smacko is talking about having another one during the Navy game If you aren't on his distro list, live in the area (sure seems like a boatload of you guys do), and would like to get on the list, please drop him a line at mike@mcmillie.com. These are turning into major-league events ... well done as always Smacko!
Several guys met in Dayton at the same time and there was even a brief "teleconference" between the two locations to commemorate the moment. Unfortunately the pix that were sent came out too fuzzy to print here. Guys who showed up there however were Tom Owen (with bride, Mary Beth), Tony Zompetti, Barry James, Tom Bell, Bruce Mahaffey, Ken Charpie, Mike Ausserer, Dave London, Phil Popovich and Dave Eidsaune (AFMC A3).
Smacko also forwarded a note from Dave Lengyel (civilian in A9 at the Pentagon) relaying a very cool chance meeting between himself, John Puffenbarger (Pentagon OSD contractor) and Mark Richardson. Mark and Dave Mintz are both over in Iraq as civilian contractors on one-year tours training Iraqi AF pilots. As Dave tells it, Mark was on his mid-tour leave in the States and was on his way back to Iraq with a long Dulles layover before his pond crossing. Puff picked him up at the airport with Dave joining them at Puff's house for a couple of hours with Mark sharing some very interesting stories about what he's doing over there. Evezyone mentioned above are Stalagers by the way. Lots of GO stuff going on . .. this picture was from Garry Dean, who is staying fully employed at the Pentagon as the Deputy AF !G. He and fellow two-stars Mark Zamzow (3r dAir Force Vice) and John Weida (was Deputy Chief of Staff USFK at Yongsan when they went through the class but recently moved back to the Pentagon as the Ops, Plans and Requirements Deputy) attended CFACC class together at lovely Hurlburt Field. Two of their instructors were our own Kevin Kennedy discussing his recent Afghanistan tour and Lance Undhjem who shared lessons from his recent tour as the CAOC Director in AI Udeid. Garry said Kevin and Lance did '78 proud with their presentations.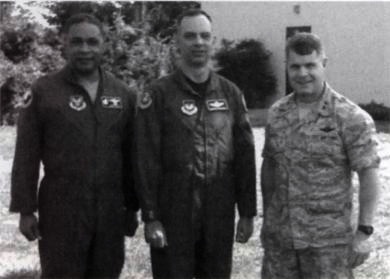 From left are Garry. Marie and ]ohn.
Steve Sargeant also sent a great shot of '78ers at the recent Corona conference. I think it 's safe to say that our class was BY FAR the most prominently represented at the conference ... standard. Anyhow, from left are: Ed Rice (5 AF/CCYokota), ack Newton (AF/DP at the Pentagon), Steve Sargeant (AFOTEC/CC at Kirtland) , Glenn Spears (12 AF/CC at DM), Larry James (14AF/CC Vandenbeig), Roger Burg (20 AF ICC at FEWarren), Hawk Carlisle (also recent 3-star and 13 AF/CC at Hickam). and Tom Owens (recent 3-star and ASC/CC at Wright-Pat). Is there a pattern here or what??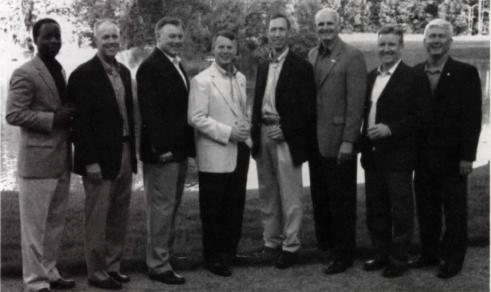 The Corona Dudes
In other GO news, Paul Capasso is leaving Germany (C4 Director at Africa Command in Stuttgart) for DC and an OSD gig; Joe Reynes is still in Iraq but pinned on his second star in May; Doug Raaberg returned from Iraq as the SpeciaiAsst to COMACC; Dave Scott has left Greece and will be working with John Weida (not sure exactly in what capacity but they are both in A3/5) at the Pentagon.
Last shot is from Brett Vance who continues to greatly suffer as a civilian Test Pilot School instructor down the road at Edwards air patch flying F-16s and T-38s (guess someone has to do it).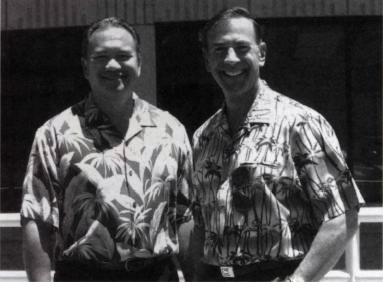 George and Brett

While suffering even more this past June when he was in Hawaii on vacation, he and his bride, Sherri, had lunch with George Ka'iliwai and his wife, ~bbie. George is the PACOM J-8 at Camp Smith and travels extensively. Brett also assured me that there was absolutely no prior attire coordination but knowing both of these guys, I have my doubts!

Finally, John Shafer who is a '59 grad, has written a very interesting e-book titled Off We Go which is his personal recollection of life in the first USAFA class. For $19.95, he'11 send you the pdf copy which is the ONLY way it can be ordered (not available in hard or paperback). His snail mail is : Jonathan S. Shafer, 7020 Half Moon Circle, #305, Hypoluxo, FL 33462 or e-mail him at starterl3@att.net if interested. This is NOT an endorsement by the way; just passing on some info.

Whew ... that's all for this quarter. Many thanks for all the great info you guys sent in info. I even have stuff for next quarter since I'm out of space for this installment. Hope everyone had a great summer.

'78 is great!
---
---