Checkpoints, Class of 1978, March 2017
Greetings 78ers…
Hope this finds everyone well and recovered from the holidays. Life here in "soggy" So Cal is never boring but especially during the most rain the state has had in at least a decade! When you've been in a mega drought for over five years, you sure don't complain about that stuff that falls out of the sky…something to be most thankful for.
On to the important stuff! After the December article went to press, one of our classmates went far more than merely "above and beyond." Jack and Vianne Kucera gave $5,000,000 to the Falcon Stadium renovation project back in November. We all remember what an exceptional football player Jack was during our cadet days. He's taken that same attitude and quest for making it happen into his life these many years. Pictured below L to R is Lt Gen Johnson Supt, Vianne, Jack, AD Jim Knowlton and Endowment President/CEO Mark Volcheff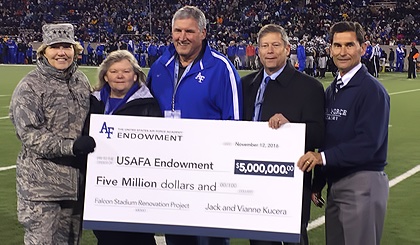 Jack has given generously of his resources and time in the past. He was the primary architect of the "78 Challenge" back in '09 for the Holaday Center, was one of the Founding Directors for the USAFA Endowment (Paul Madera was also one) and has been at the forefront of several other USAFA initiatives. Jack and Vianne still live in the Phoenix area running his new venture of Varitec Solutions. He was the CEO and President of Climatec for many years and grew it into one of the premier HVAC companies in the country installing climate systems in large (some very large) buildings. I may not be totally accurate on this but believe he sold the largest division of Climatec (Building Technology Group) and kept the Engineered HVAC solutions piece starting his new company. Not one to just sit around, Jack flies about 300 hours per year in his Pilatus PC-12 (says he believes he's reached "senior pilot" status!). Vianne also stays busy volunteering often at a local hospice with Whitney their Newfoundland service and therapy dog. Son Neil is now 29 living in San Francisco owns a recruiting business he started last year and is doing very well. Thanks so much Jack and Vianne for your incredible generosity!
Steve Lofgren sent some great shots of CS-31 78ers on an Alaskan cruise last May. The title of the cruise was "I'm too sexa(genarian) for my shirt." The group has done a Caribbean cruise in the past and this seemed like the logical follow on. First shot is on the main deck during formal night. L to R Karl (Ole) and Terry Olsen, Jeff and Kris Koury, Mack and Barb McCollum, Eric and Cindy Brown, Wayne and Theresa Scheller, Ernie and Marie St Gelais, Bob and Sally Barton, Rande and Karen Read, and Steve and Jackie Lofgren.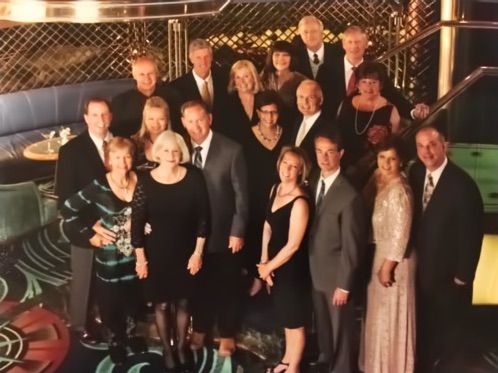 Next shot is the gang outside in their unique sweatshirts (red of course) with the squadron decal on the left and their unique design on the back. I don't have room unfortunately this quarter for a close-up of the design but will include it in the June article.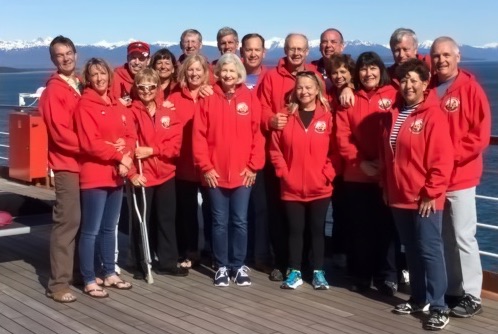 Steve noted that there were "four new hips and four new knees in the group"…season of life. Steve was one of the new knees (second one) and is about to retire as the Assistant Director in the Housing and Research Education Department at UNC Chappel Hill. He was a career civil engineer and ROTC commander while in the AF. Mack McCollum has been flying for American (777 to Europe, Asia, S. America and Hawaii) for several years and does some legal work (was an attorney before American) once in a while.
Don Alston is living in Cheyenne WY and started his own strategic consulting business in 2012. He retired as a two star in 2012 staying in Cheyenne after commanding 20th AF and was the A10 on the Air Staff prior to that.
That finishes up another quarter gents—wish I had more info to share (warning: standard whining for information next sentence). As always, my sincere thanks to everyone who sent in pics and info and for those of you who haven't yet, please send an update on what you've been up to lately (or since graduation!). Also, for those who have not joined our "78 is Great" LinkedIn group, please consider doing so. Drop me a line and let me know you've requested membership so I can approve you.
Hope everyone has a blessed Spring.
'78 is Great!
---
---