Checkpoints Winter 2015
Greetings 78ers…
This has been a VERY difficult quarter to write about given the loss of two classmates. Matt LaCourse was tragically killed when his QF-16 crashed off the coast of Florida on November 14th. His celebration of life was held the following week at Tyndall AFB at the Marina with 1000 people showing up (many from across the country) for hours to celebrate this incredible husband, father, friend and exceptional fighter pilot. Matt's squadron (82 ATRS) is still mourning him…his loss will be felt for a long time to all of us who knew him. Wayne Kellenbence and several guys from Roadrunners (Matt's squadron for most of our time at USAFA) put together an incredibly heart felt tribute that you should have already seen in this magazine. Tina is moving to Niceville to be near their daughter and is doing well.
Last week (January 20th) I heard over company e-mail (Northrop Grumman) that Bob Dimmick went out for his afternoon run and didn't return. He was found on the subsequent search and taken to the local emergency room. His funeral was on 24 Jan at Faith Fellowship in Melbourne which was the church he and Maggie regularly attended. Again, it was very well attended. Bob was a Flight Test Manager for Northrop and had done significant work on the JSTARS program. There have been a large amount of e-mails on the network reflecting how much Bob was liked and again, that he will be greatly missed.
As tragic as Matt and Bob's passings are, it was striking at how deeply each of them touched so many other people. They both not only made significant contributions to developmental programs that saved many American lives on the battlefield but were amazing husbands, fathers and friends as well. The void they leave will be there for a very long time. God's speed to you both.
To be honest, I've been struggling with writing anything else beyond this point given the tragic news but am sure Matt and Bob would want us all to press. So with respect to them both:
Will lead off with a reunion shot of the Willy 80-01 UPT class who had their 35th reunion last October (ran out of room in the last article unfortunately). Bonnie Weida sent in the picture and Rich Shook (recently retired as JJ Jackson's MA at AFREC HQ and now doing consulting work) provided the names. From L to R are: Gary Hughes, Tom Czachor, Kurt Daniels, Rich Shook, Glenn Baker (kneeling), Jon Weiss, John Weida, Rick Gier (kneeling) Dave McLeran, Jay Lindell, Mike Christensen, Tom Keohane and Chuck Chuva. Attending but not pictured were John Follman and Doug Lawton plus ten spouses.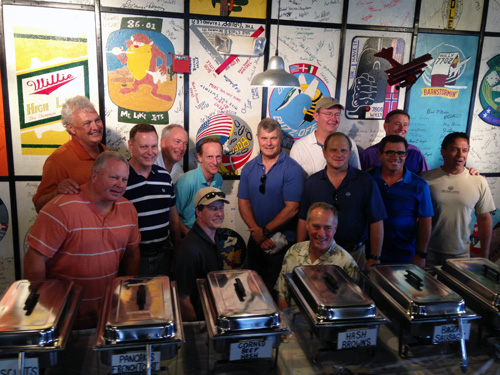 Rich said everyone had an exceptional time in Scottsdale AZ. Jon and Alicia Weiss were the consummate hosts and put together quite the agenda to ensure everyone had tremendous fun.
Larry Krauser is planning on retiring from the Emergency Management business in DC (living in MD) and has been sojourning down the east coast to Melbourne FL. He sent this great shot of him and Julia sampling their future lifestyle as they were house hunting. Larry would like to connect with any 78ers in the area so please contact him at: lmkrauser78@yahoo.com if you live in the area and want to start a '78 affinity group.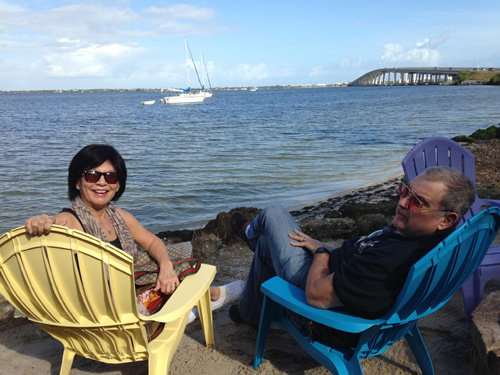 Steve and Diana Whitehouse have been living in Albuquerque NM since '94 when he took early retirement from the AF (he can't believe that was 20 years ago!). He works for Applied Research Associates which is an international research and engineering firm. He also wrote to inform everyone about a new book that close friend and '77 grad Doug Beason has written that is due to be released in April. The book is titled The Cadet and is the first in a series by Doug called "Wild Blue U." Steve continues: "The book follows the exploits of Rod Simone, a fictitious character in the Class of '59. Although "The Cadet" is a work of fiction, it recreates the cadet experience in vivid details that are sure to bring back memories (good and bad!). The book also provides insights regarding the special challenges faced by members of the Academy's first graduating class." Doug let Steve read a pre-publication version of the manuscript, and he is most anxious to read the next two books in the series. There might be info at the front of this Checkpoints that has further info and how to buy it. Sounds like an interesting reading on a subject we probably know a bit about.
Mark Richardson is in Huntsville as the VP for Global Flight Training at Integration Innovation, Inc. (i3). He retired in '04 as an O-6 and was in the Civil Air Patrol for his first 5 AF post-retirement years then found himself in Iraq with i3. He stood up the Iraq Air Force pilot training business in Kirkuk, then worked the T-6 contract at Tikrit for about a year. He then returned to the States working the management side of the flight IP business until the Fall 2011 when he once again deployed with i3 to Shindand Afghanistan. He found both desert tours to be extremely rewarding experiences and misses the camaraderie of the teams he flew with. With his current executive position he's been in AL the past two years and very much enjoying it
Finally, we heard about Jack Anthony in last Spring's article when he ran into Limo Scott and the aforementioned Jay Lindell in a Springs coffee shop. We've also heard about his hobby for the past 15 years researching USAFA from a "who was here before us" perspective. Jack has authored several articles on the subject and has also produced a 30-min video. There is a strong possibility that the AOG picked up his feature titled 10 cool "USAFA before USAFA" Historical Sites also in this issue of Checkpoints–hope it's there! He also recently starting doing space based work at the Scitor Corp and works directly for Konrad Gruca and still dabbles in Math substitute teaching in his "free time." Small world indeed! That brings this difficult quarter to a close. Please continue to keep Tina and Maggie in your thoughts and prayers.
God Bless
´78 is Great!
---
---