Checkpoints Fall 2006




Class Scribe


Bob Kay
40411 Tesoro Lane
Palmdale, CA 93551
Home: (661) 274-2201
Work: (661) 824-6426
Email: Robert.kay@baesystems.com

Greetings 78ers…

As is the case many times, I regret that I must open this up with two sad events to report. The first is the funeral for Ron Rosepink was conducted on July 28th at the Academy Cemetery thus closing the very difficult two year chapter since Ron first was missing. Thanks again for all you who gave Deb and the kids your support and prayers.

Also, Mike Nevin passed unexpectedly on June 4th and his memorial service was held the following Monday (12th) at the Cadet Catholic Chapel. Our prayers go out to Gayle and the family during this very tragic time.

I received an e-mail from Brent Bristow who finished up his tour in Bogota, Columbia and is now safe and sound back in Anchorage. He and Anita truly enjoyed their time in the area (Anita is from there) and did some sight seeing in Chile and Argentina before getting back in the States. He got his recurrency back in the B-747 for Northwest and was back flying trips fairly quickly after returning home. He sent some great pictures during the time he was there but the best one was this one of him and Anita in front of the US Embassy in Bogota. Thanks again for your service Brent as well as keeping in touch during your trip…welcome home!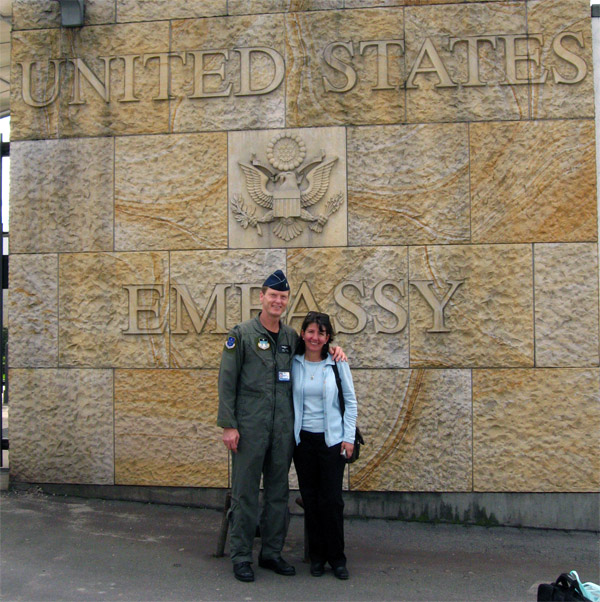 Fellow NWAer Paul Morell wrote from the Massachusetts south shore town of Hingham. He sent this great family picture of Tahni and the kids as they celebrated their latest arrival of Matthew. Paul was thinking that he would get the "oldest dad" award for '78 but I had to break the news to him that he just missed it (more later) but that it was a great achievement anyway, especially for us grandpas! He plans on bringing Matthew to the 30th in a couple of years (!!) to compare notes. Paul is doing well and in good health but is technically "medically retired" awaiting the approval of the FAA to get back to work flying. He's not complaining too much and thoroughly enjoying being home full-time with his young family after decades of living out of a suitcase flying for the Air Force and Northwest. He asked to pass on his thanks for the thoughts and prayers he's received from the class and to please look him up (he's in the phone book) if anyone is in the Boston area. Great looking family Paul (who does probably get the "I don't look 50 like the rest of you guys award")…thanks again for the note.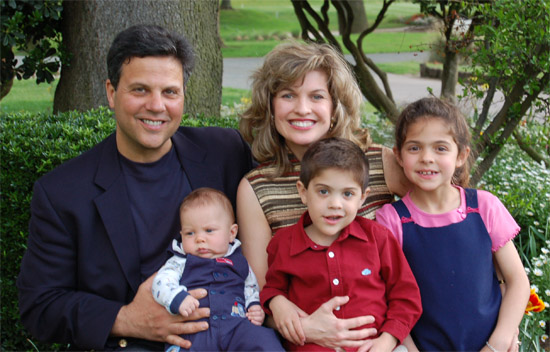 Concerning the real "youngest dad" award, that one apparently (haven't heard anything from you guys refuting this) goes to Ned Friedman…sorry Paul! As I mentioned a couple of articles ago, Brent and Ned have been working as Admission Liaison Officers for many years together. Ned lives in Oregon and is a captain for FedEx. Anyway, Brent said that Ned and Jackie were expecting their first so its looking like Ned cops the "oldest dad" award. Congrats Ned…I swear I don't know how you guys do it at our age.

Those of you who know Mike "Smacko" McMillie know that Mike never has and never will do anything second rate. Even though I am getting way too senile, I clearly remember a check ride we took at Torrejon 24 years ago when Mike did the world's greatest threat brief. He brought out actual scale models of ground threats (ZSU-23-4s for instance) and visually linked them to the one foot square floor tiles. His point was that he showed the evaluators what the threat would look like "X" amount of feet or miles away. Needless to say he got an "Exceptionally Qualified" on the ride. With similar gusto he organized an outing in DC commemorating the 28th Anniversary of our graduation. Twenty six guys from the Beltway gathered at a local Irish restaurant (near the Pentagon) on 31 may. 25 guys stuck around for the incredible picture below. Smacko is still working as a computer resources guy for the Studies and Analysis group at the Air staff and is an O-6 in the Guard. He said that everyone truly had a great time with "lots of old and new stories being swapped…and a great chance to Network some."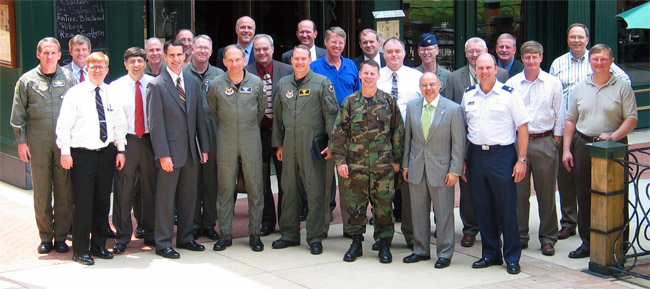 From left to right: Krisinger Chris Col AMC/A8 OL-Pentagon; Greenwood, Charles (WBB) ; McMillie, Michael G CIV AF/A9C; Troy William L CIV AF/A9FC; Devereaux Richard BrigGen SAF/IAR ; McVinney Paul CIV AF/A9LC ; Hollerbach Lynn Col AF/XOXJ ; Holzgang Peter Lt Col AF/XORM; Lengyel David Col AF/A5XC-GS; Hermandorfer, Wayne (Lockheed Martin) ; Schuenemeyer Kenneth Ctr SAF/AQLL; Bendorf, Craig Col SAF/AQIZ ; Puffenbarger, John, CTR, OSD-POLICY; Quinn, Michael J. (Hewlett-Packard) ; Frasz Russell CTR AF/XOX; Spears Glenn Maj Gen AF/A1P; Knott, Steven D., CTR, OSD PA&E; Montieth, Kieth Col, SAF/A3SS ; Lisi Stephen Ctr SAF/XCIES ; Dalbey, Steve CIV OSD/Policy; Trujillo, Alex Col IDS; Hickey, Robert (Booz-Allen Hamilton) ; Brown, Mark (SRS) ; Blisk Dave (Legacy Advisors); Gazo, Anthony (WBB). Guys who couldn't make it but live in the area are: Keye Sabol Brig Gen A1M; Taco Gilbert Brig Gen A8X; Roger Burg Maj Gen AF/A3S; Larry Krauser AF CIV and working for NORTHCOM in the NCR; Jeff Brake (ANTEON); and Mike Fennessy (WBB). He's working on yet another gig in the September/October timeframe so if anyone is in the Washington DC area and would like to get on the list, they should email him at Michael.McMillie@pentagon.af.mil. Thanks Smacko…you still do amazing stuff my friend!

Last week I was doing the Starbucks thing in one of the terminals in Atlanta returning from a trip. As I got my coffee I noticed a guy who was wearing an "AF Academy Dad" shirt and casually asked him what class his kid was in. He mentioned the class of 2007 and as I looked at him it hit me that I was talking to Doug Raaberg…talk about a chance meeting! We had about 15 minutes to chat before I had to get on my flight…certainly not enough time to catch up after a couple of decades plus. Doug recently put on his second star and showed up as the ACC DO (not XP as I reported in the last article) after being CENTCOM deputy DO and spending a year in the sand box. He mentioned that '78 is just about taking over the ACC staff with him as the DO and Steve "Goldie" Goldfein recently named as the Vice Commander. He promised to give more info for future articles.

Finally, speaking of senility, I owe Don Blackwelder an apology for an e-mail he sent me in October of last year that I forgot about (good help is always hard to find). At that time he was the 12th AF DO and USSOUTHAF A3/A5, stationed at Davis-Monthan AFB, AZ. Son Jacob graduated with the Class of 2005, had finished IFT at the Zoo and started UPT in Feb at Vance AFB. Christie, their oldest, graduated from the University of Rhode Island in 2002 and lives in Connecticut. Their youngest, Katrina was a freshmen (now a sophomore probably) at Northern AZ University in Flagstaff. He and Brenda are enjoying the empty nest and looking forward to retirement in just a couple of years. Thanks Don and again my apologies for not posting this earlier.

Well guys, once again I am in the enviable position of having run out of space. It is faithfulness such as this that keep these articles interesting despite the journalistically challenged scribe. My sincere thanks to you all for taking the time to write and provide such great pictures. May everyone have a great fall season.

78 is GREAT!


---
---