Checkpoints Spring 2009

Bob Kay
40411 Tesoro Lane
Palmdale. CA 93551
Home: (661) 274-2201
Work: (661) 824-6426
Email: Robert.kay@baesystems.com

Greetings '78ers…

I hope everyone had a great Holiday season and are enjoying the New Year. So much has happened in this country (and continues to happen every day it seems with something new) that it's difficult to grasp it all. The good news is that '78 continues to do great things.

First out of the chute is Jack Peterson who is most likely the current holder of the Oldest Class Father Award. lack and bride, Nermina, welcomed lack (not sure if Jr. or the III) back in October. When not changing diapers. Jack is a FedEx captain and lives in North Hampton, New Hampshire. Thanks for the info and way to go Jack!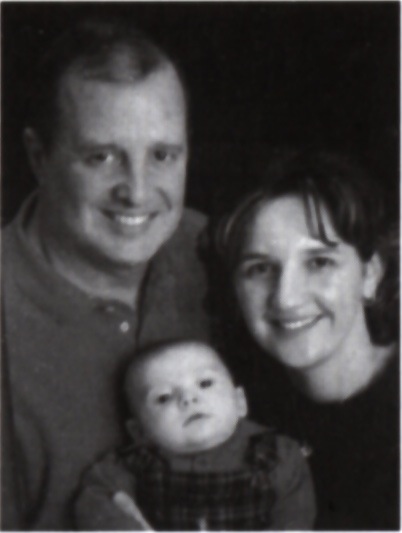 Brad Dunton is the CS-21 class contact and lives in Peyton CO which is about ten miles east of the Springs. He's hosted the squadron parties for each reunion since the l5th and kept the tradition going for the 30th. He sent a great pic of the event taken at the Sunbird restaurant on Sep.20th.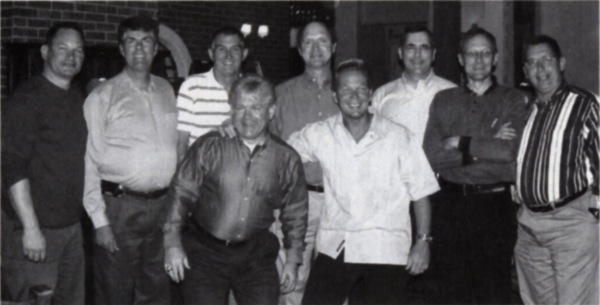 From left in front are Phil Schwartz and Kevin Hayes. In the back row are Kim Munie, Brad, Dean Habrun, Dave Morrow, Russ Kline, Jon Machina, and Harry Lade.
Phil works for Valero as a Sr. Systems Analyst. Kevin is a Capt. at Southwest. Kim is a MD-88 Capt. at Delta. Brad is an A320 Capt at NWA a subsidiary of DAL. Dean is a Quality Mgr at Michelin. Dave is a lawyer and runs his own law firm. Russ is a CPA. lon is a civil servant working for the AF in Satellites. Harry is also a civil servant at Vance AFB giving simulator rides.
Sadly. Brad also mentioned that Dean has been fighting colon cancer for over 6 l/2 yrs. and has run out of traditional treatment options. In early December. they discontinued maintenance treatment and the doctors told his family that he has 3-6 mos. to live. Dean retired from Michelin by the end of December and is spending his last days with family in New Orleans, Charleston, SC, and back home in Greemille, SC. Brad and Dean have stayed close over the years and his family is prepared for his eventual passing...as best as you can prepare for such a sad event. Dean`s wife, Kathy, has recently become a Christian Counselor (NCAA licensed Clinical Pastoral Clounselor) and practices in the Greenville, SC area. Please keep Dean and his family in your prayers.
Brad went on to mention that the 30th reunion was Kim Munle's first ever and that everyone enjoyed seeing him after 30+ years. A cool trivia fact is that Kim was the artist for our Class Crest that we all proudly wear on our rings. Brad also ran into his first USAFA roommate John Davis during the reunion. John currently lives in Phoenix and works as a computer software development consultant.
Steve Goldfein retired a few months back (with among others a great showing of Reb Eleven classmates) and is now working for the Northrop Grumman Aerospace Sector in the newly forming Advanced Programs and Technology Division where he runs the CONOPS and Military Requirements activi- ties. He sent a nice picture of the family during his retirement.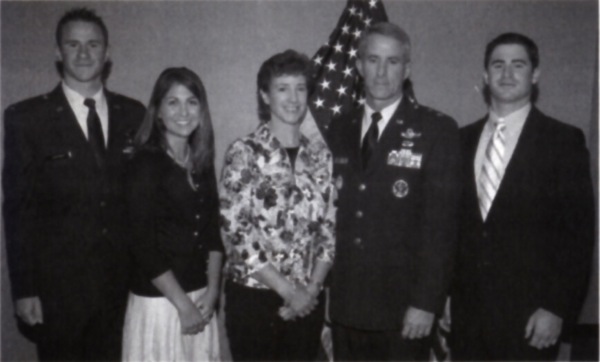 From left is son Alex (a T-6 IPat Del Rio). Alexs wife, Colleen; Jeanne, Steve and son Travis (in management for General Mills in Chicago).
Vince Wisniewskl also works for Northrop in the Hampton VA area and had dinner with Steve back in January. Also. Steve and Jeanne attended a couples Daedalian dinner the third week of January and sat with the greater DC area flight captain, our own Jay Lindell. As reported in a past article. Jay put on his second star several months ago and is currently working Global Power Programs for the SECAE He is on the speaking circuit often talking about his experience being in charge of building the Afghani Air Force.
Speaking of two stars. UPT classmate Garry Dean put on his second star back in December. He`s been in the Oregon ANG for almost I5 years but since Feb of last year has been the deputy AF IG at the Pentagon on an extended active duty tour. During his Guard time, Garry was a wing commander as well as deputy of operations and assistant adjutant general at Joint Forces Headquarters-Oregon. Prior to his current gig, Garry was the assistant to the commander at lst Air Force at Tyndall. In his free time. he's also a captain for Delta. Below is a shot of his family doing the pin-on honors. Former Stalag 17 classmates Mike "Smacko" McMillie and Dave Lengyel were able to attend as well.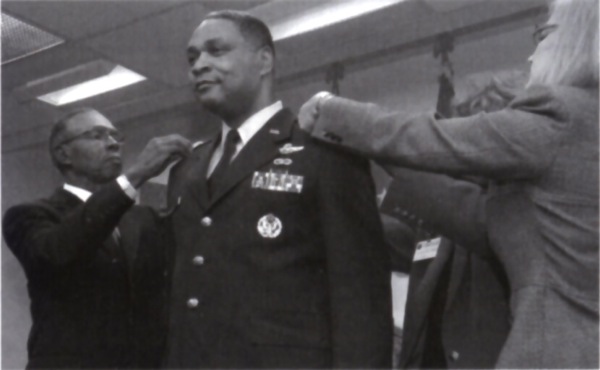 Finally, in other classmate G.O. news. several guys either retired. pinned on or mowd: Joe Reheiser retired as the commander of the AF Secunty Assistance Center at Wright Pat. Those who joined Garry in pinning on another star were: Punch Moulton (second) is still the I-3 for EUCOM: Dave "Limo" Scott (second) is still on his hardship tour in Larissa, Greece as the Deputy CAOC7 CC. Movers included Dave Eidsuane from Eglin (Air Armament Center commander) to Wright Pat (Director. Air. Space and Information Operations, or A-3 for AFMC); Mark Zamzow from Baghad (Deputy Chief of Staff, Strategic Communications. Multi-National Force-Iraq) to Mildenhall (Special Asst to 3rd AF/CC). Finally, Doug Raaberg from Al Udeid AB. Qatar Deputy Combined Forces Air Component Commander, United States Central Command: Deputy Commander. Air Force Forces; and Vice Commander. 9th Air Expeditionary Task Force) to Langley (Special Assistant to COMACC).
That's all I have for this installment...kind of abbreviated especially compared to last quarter's. My personal thanks to all who sent in the info and pix and I hope everyone has a great Winter. God Bless. '78 ls Great!
---
---