Checkpoints Winter 2013
Greetings 78ers…
I would like to start this quarter's article off with a 35th reunion update. As I mentioned last quarter, Wayne "Bees" Kellenbence is leading the charge with able help from Punch Moulton, Dave Scott, Jay Lindell. Our class president, Steve Dalbey will be in the loop from the Beltway. The classes of 63 and 68 have in fact already picked reunion dates (Notre Dame 26 Oct and Army 2 Nov—non Mountain West games). Further, Parents weekend is off limits and we understand that 2003 and 1993 (10th and 20th reunions) have the first home game after Parents Weekend for homecoming. Wayne has asked the AOG for a Home football game date in late September or early October. Once the football schedule is released (and Wayne should have advance notice since he works in the Athletic Department), Wayne will immediately notify the AOG of our preference which we will hopefully get. We are also looking at the Marriot or Embassy Suites as our home base with the usual activities: golf tournament, lunch with cadets, a couple of evening dinners (Thurs and Fri), tailgate in the Athletic Department tent and then post game squadron parties etc. So as a reminder, please check out the class web site or the "78 is Great" LinkedIn group, if you have already joined…if you haven't joined yet , please consider doing to. Be making plans to attend—this promises to be an exceptional event.
Had some great info from several guys: Brad Dunton sent some excellent shots from last July when Brad and his bride Terri flew up to Dayton, OH to attend the Tom and MaryBeth Owen's retirement ceremony. Gen. Janet Wolfenbarger '80, AFMC Commander, was the presiding officer. In conjunction with Tom's retirement, there was a change-in-command ceremony involving the inactivation of the Aeronautical Systems Center and activation of the AF Life Cycle Management Cente. All of the activities took place in the AF Museum—Brad said it was an incredible sight to behold. Dale Pangman was also there to celebrate Tom and MaryBeth's special day. Below are two great shots Brad sent along.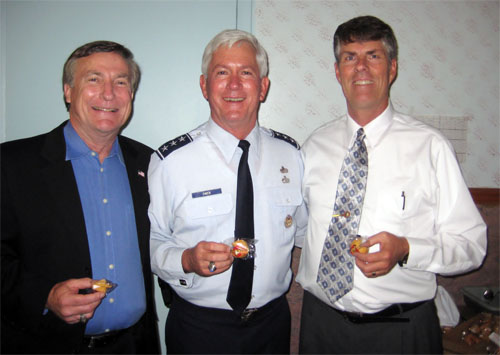 From left to right are Dale, Tom and Brad
And here are two very happy couples.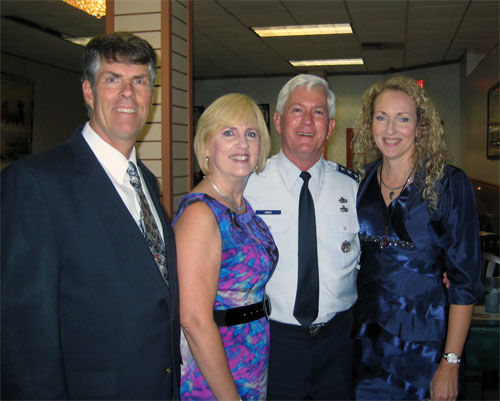 From left to right are Brad, Terry, Tom and MerryBeth
Brad also mentioned that he has been flying for Northwest Airlines for over 20 years and is weathering the merger with Delta which he says seems to be going about as well as can be expected. He and Terri moved from the Springs (where he had commuted all of those 20+ years) to Canton, GA. Significantly different surroundings from Colorado but they are enjoying their new home and surroundings (not having to commute certainly sweetened the deal). Thanks so much for the great message Brad and a hearty congratulations to Tom and MaryBeth!
Another Northwest alum is Art Harrison who brought us up to date with his goings on. He retired from the Kansas ANG in '98 after flying F-4s and F-16s for several years and immediately hired on with Northwest. He moved to Memphis in 2000 flying the A320 and recently moved to Marietta GA where he bought a "new" old farmhouse close to bride Polly's mom, brother and cousin. Most sadly, Art has been dealing with some significant medical issues and is awaiting his FAA medical to hopefully be reinstated. Our thoughts and prayers are certainly with him to get back in the saddle. Art also had some very sad news on Dan Schwarzenbach who suffered a stroke a year or two ago and is slowly recovering…all the best to you Dan if you are reading this. Art also said that Jim Whidden retired as an O-6 recently and works civilian Intel in Florida. Thanks for the great words Art!
Speaking of retirement, Ken Charpie (sent the great pix of the Dayton gang last quarter) recently has called it quits and is now officially in his second retirement from the contractor business at Wright Pat. His plans are severe relaxation and part time teaching at Wright State. Congrats Ken…well deserved.
Steve Acton migrated from Tampa after 20+ years to DC where he is currently working for Homeland Security in the investigations division (primarily students and exchange visitors). He stays very busy and says that one of the big challenges is getting used to four real seasons again!
Some other job changes involve Al "Mad Al" Myers who moved from San Diego as the Chief of Naval Air Forces back to the Beltway as the DCNO for Integration of Capabilities and Resources (N8). Among his many areas is Fiscal Management and Programming for the Navy—huge responsibilities. To say that he will be busy during these "interesting times" is probably a gross understatement. Steve Goldfein was recently made the Vice President of Business Development for one of Northrop Grumman's four main business sectors. Doug Raaberg, also in the Northrop Grumman BD area was promoted to the acting Director of Business Development for Military Aircraft Systems in addition to his continuing role as director for U.S. Air Force and Air National Guard programs. Congratulations to you both. Finally, Bill Chambers is due to retire this summer after many years of faithful service. He has done amazing things on the Air Staff and I'm sure his constant smile and desire to help others will be greatly missed!
That will be a wrap for this quarter—my continued thanks to all of you who sent information. This is my annual request (read plea) to consider sending in an update to share with the class—especially if you haven't in the past. I hope that everyone has a blessed winter as we look forward to warming temps—even here in "sunny" California.
God Bless
´78 is Great!
---
---